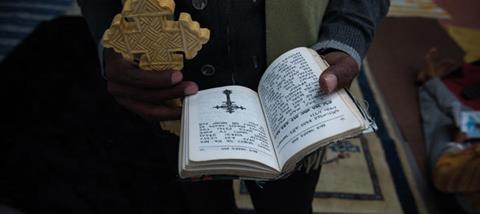 (Hagos Andom, a priest from Eritrea ministers to Christian refugees in Calais)
Rachel Rounds from Bible Society told Premier, 'It was utterly amazing to see people's faces filled with such joy, and to see them picking up the Bible and reading it in their own language.'
It is estimated that around 4,000 people including children live in the camp, also known as the Jungle.
Following Premier Youthwork's trip to the Calais camp earlier this year (see 'News Analysis', October) the magazine has launched its #LoveCalais campaign (Premieryouthwork.com/LoveCalais), which aims to encourage youth groups to raise money to build shelters in the Calais camp.
Editor Jamie Cutteridge who visited the camp said, 'The conditions in the camp are temporary, ramshackle and not fit to survive the cold winter months. This is an amazing opportunity to support those desperately in need of our help this winter. As a magazine, we are committed to support those mere miles away from our country.
'Each shelter can protect up to 12 refugees this winter. With your help, and working alongside local charity L'Auberge des Migrants, we want to build 80 shelters, providing 960 people with protection and warmth before the cold sets in. 'Each shelter costs £500. We are asking youth groups across the country to organise bake-offs, outdoor sleepovers, movie nights and other initiatives in order to raise the funds needed to sponsor a temporary shelter in the Calais refugee camp.'
The news comes as the refugee crisis continues to dominate headlines across Europe, with a crowdfunded National Refugee Welcome Board having been set up in the UK following what has been described as 'surging public generosity toward refugees'.
The new board will work with local authorities, encouraging them to resettle refugees. It will also seek to mobilise the country's major faith communities and make sure all refugees receive a warm welcome.
In Germany, hundreds of Muslim refugees who are fleeing conflict in the Middle East are said to be converting to Christianity. Trinity Church in Berlin has reportedly grown from 150 to more than 600 in the past two years.
In the UK, Christian charity Home for Good has compiled a database of 10,000 volunteers willing to consider fostering unaccompanied asylum-seeking children. Its founder and director Krish Kandiah wrote on the Premier Christianity blog that the refugee crisis was 'an opportunity for the Church to enact the parable of the Good Samaritan on a massive scale'.