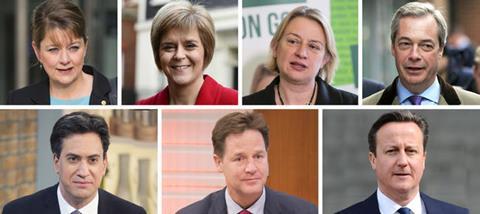 'I'm a big believer in the power of faith to forge a better society. And that belief boils down to two things.
'First, the Christian message is the bedrock of a good society. Whether or not we're members of the Church, 'Love thy neighbour' is a doctrine we can all apply to our lives – at school, at work, at home and with our families. A sense of compassion is the centrepiece of a good community.
'Second, and more specifically: faith is a massive inspiration for millions of people to go out and make a positive difference. Across the country, we have tens of thousands of fantastic faith-based charities. Every day they're performing minor miracles in local communities. As Prime Minister, I've worked hard to stand up for these charities and give them more power and support. If my party continues in government, it's our ambition to do even more.' David Cameron, Conservatives
'I'm clearly not going to claim that I 'do God', but what I do think is important is that sense of respect. I have huge admiration for so many people in the Church and the work they do. I believe in social justice, a more equal, fairer society, and I see those values played out among so many people in the Christian community who worship God and spend so much of their time ensuring people have better lives; whether it's food banks, or volunteering in the local community, or youth work, or all of those things that Christians in our country do.
'There's a saying that 'the country's run by those who turn up', and that's really important. It's great that so many Christians take their responsibilities to vote so seriously. People are cynical about politics, but change doesn't simply come from politicians; it comes from people. If you think about the issue of food poverty, it's been made an issue by the churches, by the food banks, by organisations like The Trussell Trust. Politics is too important to be left to politicians. That's a strange thing for a politician to say, maybe, but I think it is important.' Ed Miliband, Labour
'I want to pay tribute to all the church groups of different denominations who seek to serve the most vulnerable through the provision of food banks and other support. The balance we need to strike is making sure that we welcome what the Church and voluntary groups do, but not in a way [that] absolves the state's duty to look after the most vulnerable.
'I think the big question for us as a country is how we safeguard the values of tolerance, pluralism and mutual respect at a time when there is increasing polarisation in British politics. I believe the way to do that is by anchoring this country in the moderate liberal centre ground where the vast majority of people, including people of faith, believe that we can strike the right balance between prosperity and mutual respect. The debate has become quite shrill and angry; a lot of finger-pointing going on. I think it's important that we should stand up for those liberal centre ground values.' Nick Clegg, Liberal Democrats
'Whilst acknowledging that a person's faith in God is a private matter, my party supports any individual who wishes to express their faith in a free country. We wish to work with any religious community that upholds and promotes social cohesion, and engages in assisting those who are in great need. For example, UKIP acknowledges the practical assistance given by various churches via their contributions of food stock to the various UK food banks. In my home city, I often meet faith leaders from different denominations who are actively seeking to bring communities together to openly discuss practical and moral issues. We should value and support their effort.' Mark Taylor, UKIP parliamentary candidate for Coventry South
'The Green Party recognises the enormous amount of excellent work done by churches up and down the country. From pioneering Fairtrade, to organising with communities to push for Living Wage jobs, the Church has often been at the forefront of social change in Britain. We¹re also very proud to have worked with churches on the excellent nationwide disvestment campaign.
'The Green Party believes in strong local communities and we will always defend the rights of people to practise their religion.' Natalie Bennett, leader of the Green Party
'The SNP recognises the substantial and enduring influence of the Christian faith in transforming and inspiring Scotland's people and culture. Modern Scotland is a multi-faith and multi-cultural society; we welcome and value the contribution made by all Scotland's diverse faith and belief communities, to enrich us all.
'We have a shared commitment with Scotland's churches to tackling inequality, in particular combating the impact of welfare changes and addressing the issue of poverty among those in work. We are eager to continue to work together towards our aim of creating a more fair and just society.' SNP spokesperson
Plaid Cymru did not respond to requests for a quote.
Who will you be voting for and why? Post your comments below...
To receive a free copy of Premier Christianity magazine click here