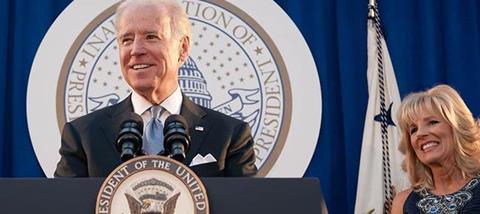 Biden is a man of deep faith, who attended Mass on the morning of the election. Trump, on the other hand, baselessly claimed the election was rigged and headed for the greens for what was the 299th golf outing of his presidency.
This outing proved to be the most infamous, with CNN calling the election for Biden as Trump was golfing. When he returned from the golf course, news cameras captured a sullen outgoing president gazing out of a car window at the thousands of people who had gathered outside the White House to celebrate his defeat.
"On the morning after the election, when the result still looked uncertain, Biden told his supporters to "keep the faith". While it may have been a figure of speech, Biden himself has spoken of how his Catholic faith has sustained him through many times of personal hardship.
When asked how he copes with the grief caused by the deaths of his wife and daughter in a car crash in 1972 and the death of his son Beau to cancer in 2015, Biden quoted the Danish philosopher Soren Kierkegaard: "Faith sees best in the dark."
On the morning of the election, Biden visited Beau's grave after Mass and he also invoked his deceased son during his acceptance speech. The president-elect carries a pair of rosary beads Beau gifted him wherever he goes, and near the end of his acceptance speech, Biden spoke about a hymn that meant a lot to Beau.
Biden said the hymn also "captures the faith that sustains me, and which I believe sustains America".
That hymn was 'On Eagle's Wings', and after Biden quoted a line from it, he told the cheering crowd that "together, on eagle's wings, we embark on the work that God and history have called upon us to do, with faith in America and each other". Bided ended his speech by imploring his supporters to not just "keep the faith, but to spread it".
Now that Biden is set to become leader of the free world, how will this faith affect his policies? Faith will certainly play a larger role in Biden's presidency than it did in Trump's.
In public, Trump boasted that "Christianity will have power" in his administration and that he will be the protector of Christianity in an increasingly secular world. But in private, he mocked and belittled Christianity: "Can you believe this bulls**t?" he reportedly said after a meeting where an evangelical pastor laid his hands on Trump in prayer.
On one issue, however, Biden is clear that his faith will have no impact on policy. While Trump was a darling among some Christians because of his anti-abortion stance, and in spite of his many other vices, Biden says he isn't "prepared to impose a precise view that is borne out of my faith on other people."
Biden believes human life is "convened at the moment of conception", but says he won't be "ruled by his beliefs". He has previously said he would seek to codify Roe v Wade, the landmark Supreme Court decision that established women's abortion rights nationwide – a move that could protect that right from mounting legal challenges from Republican-led states. This saw him barred from receiving Communion at a Catholic church in South Carolina last year, with the parish priest explaining that "any public figure who advocates for abortion places himself or herself outside of Church teaching".
Although Trump is the pro-life candidate as regards abortion, Biden is the "pro-life" option on every other issue. The head of the Catholic Church of which Biden is a part, Pope Francis, has said that to be pro-life is to also care about the "poor and marginalised person, one who has lost his job or is unable to find it, a rejected or ghettoised migrant".
This is a world-view Biden ascribes to and he hails Pope Francis as "the embodiment of Catholic social doctrine that I was raised with". Biden says this doctrine is "the idea that everyone's entitled to dignity, that the poor should be given special preference, that you have an obligation to reach out and be inclusive".
Trump's administration took a zero-tolerance approach to dealing with immigrants, famously locking up children and separating them from their parents at the US-Mexico border. He also enacted a travel ban that places restrictions on people from several Muslim-majority countries and has limited refugee admissions to the US for 2021 to just 15,000 people, a record low.
Biden has committed to reversing all of the above policies within his first 100 days in office. Biden also plans to eliminate tuition fees for students at community colleges and hopes to double the federal minimum wage from $7.25 to $15.
Where Trump sought to downplay coronavirus and often mocked those who wear masks, Biden has announced a coronavirus taskforce that he says will tackle the pandemic with "compassion and empathy".
Another major departure from the Trump-era is Biden's intention to re-join the Paris Climate Agreement. The United States formally left the Paris Agreement last week amid the drama of the US election and Biden says he will re-enter it on day one of his presidency, in addition to launching a $2 trillion green stimulus package.
Trump previously labelled climate change a "hoax", but Pope Francis has urged world leaders to hear "the increasingly desperate cries of the earth and its poor" and Biden is responding in kind.
Biden will be the second Catholic to become POTUS after JFK and he has previously stated that he is "with John Kennedy on the role religion ought to play in politics".
However, Biden also says his "idea of self, of family, of community, of the wider world comes straight from my religion" and this comes across time-and-time again in his major policy departures from Donald Trump.
Diarmuid Pepper is a broadcast journalist who was previously a Religious Studies and Philosophy teacher