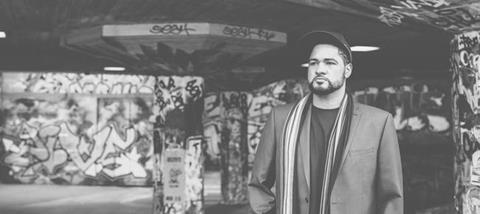 I fell in love with rap music as a 13-year-old boy trying to navigate my way through the Christian faith. As a British-born Ghanaian teenager, I was subject to regular racist comments. My peers would probably call it 'banter' today, but being in the minority was already daunting and the racial remarks made me deeply self-conscious.
I had been attending a Pentecostal church since I was a bump in my mother's tummy, and I loved Jesus. But my world was different from that of my immigrant parents, let alone the first-century world Jesus had lived in 2,000 years earlier. I was searching for a way to bring my faith into real life, as I saw it.
Rap culture had made its way over to the UK from America, infiltrating my community, my school and the media. So when I saw artists celebrated in the mainstream world that looked like me, dressed like me, talked like me and were of Afro-Caribbean descent, I connected with it in a deep way.
I was hooked by the artistic skill of putting lyrics together and making them rhyme in a way that was pleasing to my ears. Coupled with the heavy basslines and catchy instrumental melodies, it felt like a match made in heaven. But just how heavenly was it?
DISCOVERING CHRISTIAN HIP-HOP
I loved the music and I loved the culture, but as I became more of a fanatic I realised that most of the content stood against everything that I stood for. The glorification of drugs, money and misogyny never sat well with me, not to mention the bad language. Back then, clean versions of records were few and far between, so I found myself rapping along but taking a deep breath of silence whenever a swear word appeared.
That all changed one day while I was watching a Christian TV channel at home with my parents. A Billy Graham sermon had just finished and a music video followed. A thumping bassline instantly grabbed my attention. Then the confident words: 'For those of you that think that gospel music has gone too far, you think we've gotten too radical with our message, well I've got news for you: you ain't heard nothing yet.'
It turned out to be renowned praise and worship leader Kirk Franklin in an oversized white suit performing his hit single 'Stomp' (Remix). Essentially, it was rap music with a choir playing behind it. It featured a rap verse from Cheryl James, a member of hip-hop trio Salt-N-Pepa, and the rhyme had as much sparkle as any of the mainstream stuff I had been listening to, but there was a clear difference in the content. The seed was sown.
This opened me up to a whole world of edgy Christian music that pushed musical boundaries yet was uncompromising on biblical truth and content. This kind of music helped me relate to God in a new way and I realised that he could use anyone and anything to reach someone. Rap included.
WHY SHOULD THE DEVIL HAVE ALL THE GOOD MUSIC?
Not all Christians would agree with me, however. Growing up, I remember when popular American preacher G Craige Lewis condemned rap and hip-hop to such an extent that he described churches who endorsed the genre as 'antichrist churches' that are 'forwarding the devil's agenda'. I didn't know what to believe, but through reading my Bible and knowing that I had a heart to make inspiring and uplifting rap, I began my music career, adopting my stage name 'Guvna B'. My first record, 'The Narrow Road', was released in 2008, and a MOBO award followed two years later.
THIS MUSIC HELPED ME RELATE TO GOD IN A NEW WAY
My aim was to share my faith and relate to young people who might not necessarily want to sing 'Shine Jesus Shine' (no offence, Mr Kendrick). I thoroughly enjoyed what I did, but Lewis' words always left a doubt at the back of my mind.
That was until I got an email from a fan who had seen me in concert. She was depressed because of her family circumstances and had resorted to self-harm. She had been doing so for three years and couldn't see a way out. She explained that seeing me stand up for my faith and perform with inspiring words had given her hope. She vowed not to self-harm again because she knew that Jesus had a plan for her. From that day on my doubts evaporated and I realised that if God could use sanctified rap music to bring people closer to him and out of self-harm, it couldn't be wrong.
RAPPING FOR JESUS
Fast-forward to today and you'll see that rap music created by devoted Christians is a growing phenomenon. The genre has diversified into hip-hop, urban, pop, dance and even worship. I've just received an email from Matt Redman with details of the release schedule for our new song together. A rapper and a worship leader on one song! Who would have thought it? Do we even need to separate the two?
Now, hundreds of talented Christians have dived into rap and are making great music with biblical content. It's also being recognised in the mainstream. UK rap artists such as Dizzee Rascal, Tinie Tempah and Wretch 32 have all acknowledged and appreciated Christian rap music, publicly declaring their support for some of the artists within the genre. It has become a credible and well-respected form of music.
Devoted Christian and gifted rapper Lecrae is a case in point. The Grammy award-winning American became the first faith-based artist to top the Billboard chart with his latest album Anomaly selling 90,000 copies in the first week and recently completing a sell-out arena tour. Meanwhile, his fans pick up more scriptural knowledge from his uncompromisingly gospel-centred lyrics than a typical Bible-reading programme might achieve.
In fact, Christian rap music is growing so rapidly that it is outselling traditional praise, worship and gospel music. Could we be witnessing a musical and generational change within the Church? Could we even see churches singing and rapping Christian hip-hop during their worship times in the near future?
REACHING THE UK SCENE
Here in the UK, excitement around the genre is just as popular. Homegrown pioneers like Dwayne Tryumf are still going strong, with new talent continually coming through.
Tryumf has legions of fans and is well known for his raw and uncensored biblical truths. His '777' song breaks down the gospel in just one minute and 44 seconds, and has amassed more than half a million YouTube views. He is currently studying Mandarin and has dreams to go to China to win souls for Christ. Tryumf raps: 'Living and driven, given a vision/Fulfilling the commission with spiritual intuition/People you need to listen.'
Another longstanding pioneer is Jahaziel. With three albums under his belt, the rapper is firmly rooting his music in mission. He has just been made a local missionary at a church plant in north London and, working with the Message Trust's Eden community, has moved his family to a local estate to reach out to underprivileged young people. Music is clearly working as a tool for transformation for the MOBOnominated rapper.
LZ7 are a pop/dance group that formed 15 years ago. Implementing rap has seen their fan base grow rapidly over the last few years, with two Top 40 chart hits and tours across the world. They retain their 'pop' status, but introducing rap has broadened their reach.
Lindz West, the band's frontman, describes how the music is making a genuine impact on young people: 'We were at a gig and a girl came up to me. She was shaking with a razor blade in her hand. She handed me the blade and said, "I'm not giving up tonight."
'That night she was going to jump off the roller coaster of life, but God moved in her heart through the music we were performing and the words that we spoke.'
A RISING GENERATION
From the old guard to new blood, Distinct are a dynamic rap duo from east London. Both are still in college but bold enough to stand up and represent their faith through their music. Taking that stance among other Christians is one thing, but doing it among peers who are completely unchurched is a different story.
Natty from the group says: 'We want our music to reach everyone, not just Christians but people who are not saved as well.'
J Vessel works along the same lines. Nominated for a MOBO award last year aged just 17, he says: 'I tell people my life story. I tell people about the hope that I found in Jesus. I talk about real-life issues and how God is a big part of my life.'
For real fans, rap isn't just a musical genre, but a way of life. J Vessel says: 'I want to see the culture change. Music should be used to talk about deeper things. There's more to life than partying, drugs, sex and alcohol. People that are actually struggling don't have anything to listen to and that's what I hope to provide through my music.'
And in case you thought this was a male sport, Rain Freedom knocks that notion on the head. Rain is a creative soul whose aim is to be real and raw. She doesn't want to shy away from the topics that the Church considers taboo. Her music reaches a lot of girls struggling with issues, and Rain wants them to know that they aren't alone.
'I want to inspire people,' she says. 'I think it's important in hip-hop to talk about your own experiences because then it comes across real and authentic and that's how people can relate.'
Nick Brewer takes a slightly different approach. A committed Christian, Nick recently signed a major recording contract with mainstream label Island Records. During a first listen to his music, you probably wouldn't be able to tell that he's a believer, but on deeper reflection the moral standpoint behind the lyrics becomes clear.
RAP ISN'T JUST A MUSICAL GENRE, BUT A WAY OF LIFE
He says: 'I write about all aspects of my life and my relationship with God is a huge part of it. I didn't want my music to just be exclusive to Christians, however, as I felt that I had something for everyone to hear.' This approach seems to have worked, with Nick receiving plaudits from the Christian as well as the mainstream world.
CONNECTING WITH CULTURE
Those who are sceptical about the value of rap and hip-hop won't find a direct justification for it in scripture. They may ask whether Christian rap music actually impacts culture? Like me, the critics may only be fully persuaded when they see the fruit of what can happen.
Terroll Lewis, formerly known as 'Boost', was a member of the Organised Crime (OC) gang in Brixton, with a reputation for extreme brutality. Terroll, who served time in prison, tells how Christian rap music kept him on the straight and narrow after he came to faith: 'When I became a Christian, it was a new world to me. All I knew was the gang life. Christian hip-hop helped me relate to Jesus in a way I never knew was possible.'
I believe that God is the author of creativity and, if everything on earth belongs to him, that includes rap music. Terroll's story and a thousand others show that rap is being used for the glory of God. Perhaps this genre of music has been made ready for just such a time as this, enabling a whole new generation to get plugged into Jesus. Today, in a multitude of ways, hip-hop artists are part of the body of Christ; a thought succinctly captured in rapper A Star's paraphrase of 1 Corinthians 12:12: 'Unity, one body/Can't wait till my Jesus comes for me/Got love for those who got love for me/Love for even the ones that envy.'
Guvna B's latest track with Matt Redman 'Let My People Go Remix' is available now. Watch the artists profiled at premiergospel.org.uk/bars.
Photography: Steve Fanstone
A BLUFFER'S GUIDE TO RAP AND HIP-HOP'S VARIOUS GENRES
GRIME: Originated in the UK and is the art of rapping over fast-paced beats, usually set at a tempo of 140 beats per minute.
Examples: A Star – 'DFMB'
Sammy G – Dublit
Next Ting 140 – The Very Best of UK Gospel Grime
EDM: Rapping over electronic dance music, and a broad range of percussive musical styles, has become more and more popular over the last five years. This genre takes experimental instruments and puts them together to create an energetic sound, particularly popular at festivals.
Examples: LZ7 – Aftershow
Twelve24 – Tell the Truth
Guvna B – Odd 1 Out
HIP-HOP: The oldest, most prolific form of rap. It involves spoken rhyme with a strong rhythmic accompaniment.
Examples: S.O. – So It Continues
Jahaziel – Heads Up
Hawk House – A Handshake To The Brain
GOSPEL RAP: A contemporary take on gospel music, with rappers choosing to overtly and openly make music about the gospel of Jesus Christ over various tempos and styles.
Examples: Faith Child – Illumination
New Direction Crew – In the Saviour's Shadow
Triple O – Flatline
HOW HIP-HOP MET THE GOSPEL
Hip-hop originated in New York in the 1970s. It wasn't just a genre of music, it became a culture involving rapping, DJing, B-boying (a form of breakdance) and graffiti art. It has continued to develop globally, and rap (spoken rhyme with a strong rhythmic accompaniment) has grown astronomically. An active part of society since its birth, hip-hop started on the streets with block parties, where speakers were plugged into lamp posts and emerging artists performed in a bid to break down racial barriers.
A number of high-profile hip-hop musicians were brought up in the Church. Whether they stayed there is another story, but hugely popular acts such as MC Hammer, Nas, Kanye West, 50 Cent and Jay-Z all grew up attending church. This is clearly evident from some of the content they have released, with Kanye West's best-selling single 'Jesus Walks' a notable example.
However, although some of these artists have alluded to their Christian backgrounds, much of their music falls in line with the glorification of gang culture and unbiblical content with which hiphop and rap is frequently associated.
That said, there are rappers who are completely dedicated to promoting music with Christian content. Christian hip-hop, originally known as gospel rap, developed in the US in the 1980s when groups like Gospel Gangstaz, JC & The Boyz and dc Talk began releasing rap music with a Christian world view.
What began as a fairly small movement blossomed when Toby McKeehan, better known as TobyMac, started Gotee Records in 1994. It was the beginning of hip-hop's wider acceptance in the contemporary Christian music scene, heavily backed by a major label and marketed through book stores, radio and live shows. Since then, scores of Christian rap and hip-hop acts have followed, both in the US and overseas.
The genre has stood the test of time and remains everprevalent in youth culture today. A healthy percentage of songs in the various world music charts contains some form of rap.