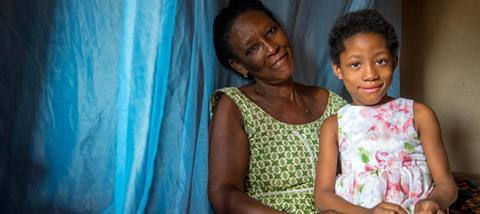 There were 445,000 deaths from malaria in 2016 and the vast majority of these deaths are in children under five.
Imagine putting your child to bed at night, not knowing if tonight is the night they will be bitten by an infected mosquito and succumb to the potentially deadly disease.
Malarial parasites activate at the same time each day, causing infected children to writhe with fever, vomit, have seizures and fall into comas.
Imagine feeling powerless to stop your child's suffering; being unable to afford medical treatment and unaware of things you can do to reduce their chances of catching it in the first place.
This was the reality for many parents in the town of Amlamé, Togo, until Compassion started two projects in the town to look after the area's most vulnerable children.
Amlamé is located 100 miles outside of Togo's capital, where Malaria is rife. Before our arrival, 60 children a year were dying from malaria in the town. However, Compassion's projects in this malaria hotspot have reported zero child deaths from Malaria since 2016. That's due to combination of educational initiatives and free treatment for those in need.
With the right treatment, children with malaria don't have to die – and even better, malaria can be prevented in the first place.
However, education and awareness are vital to bring about change.
Working hand-in-hand with local medical staff, Compassion's project workers in Amlamé have taught parents the importance of rushing a child to hospital as soon as they show symptoms of malaria.
Before the projects were opened, parents tried herbal remedies or local potions to treat Malaria because medical treatment was too expensive. To counter this, Compassion has offered financial support to help parents pay medical consultation fees. Its staff also teach parents to use mosquito nets and maintain hygiene at home to reduce exposure to mosquitos.
Reducing malaria has a wide and long-lasting impact. Communities are healthier, economies are stronger, and children don't miss school due to sickness.
For Grace, the project in Amlamé has literally been a life-saver. Previously, she experienced malarial fevers and anaemia twice a month. Her parents had spent a lot of money trying to save her and were about to give up when they heard about the medical check-ups on offer through the Compassion project.
Now, the doctors keep Grace under close observation and she is treated quickly whenever she displays malaria symptoms.
"If the project had not come to my rescue, my child would have been buried a long time ago," says Yawa Abuga, Grace's grandmother.
Compassion's work in Togo began in 2009. Now 197 local churches are reaching out to more than 50,982 children through partnership with Compassion.
Jennie Taylor works for Compassion, which aims to release children from poverty in Jesus' name. For more information about Compassion and how you can sponsor a child visit compassionuk.org/sponsorship
Click here for a free sample copy of Premier Christianity magazine