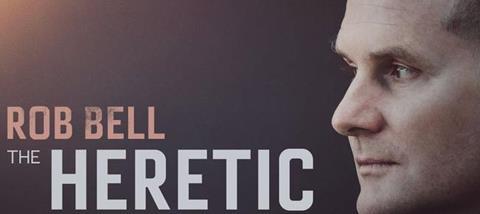 "Somewhere along the way the Jesus movement got hijacked…and thousands of years later, this thing that calls itself Jesus, is so far from its roots"
So begins The Heretic, a documentary movie about the former megachurch pastor, now author and speaker, Rob Bell, who describes himself as someone who "makes things".
In many ways, this documentary, is his story, in his own words - and a fascinating insight into Bell's own spiritual journey.
Bell has always been a divisive figure. Many, including the director of this project Andrew Morgan, believe he's taking the Jesus movement forward, asking important questions, and expanding our view of God. He's described as a "paradigm shifter way ahead of his time" at one point in the film.
Insightful interviews with friends and family help paint a picture of the man Rob Bell and not just the public figure. We see someone who lives what he preaches, who loves life, and is passionate about his goal of taking the Jesus movement back to it's roots.
But others, who we also encounter along this 1 hour 10 minute journey, think the complete opposite. And that's where the title comes in.
The Heretic begins by exploring Bell's background, from the founding of his megachurch in Grand Rapids - Mars Hill, through the growth of his speaking and writing career, which cleverly builds towards the pivotal moment in his career. It's the same moment which the film pivots around - the release of Love Wins - a book which called into question the traditional evangelical understanding of heaven and, most controversially, hell.
Bell talks movingly about the impact of Love Wins on his career. He explains how he went from selling out 1,000 seat theaters to struggling to attract more than 60 people a night. Although it isn't mentioned in the film, Love Wins killed Bell's own back-catalogue of once successful books. Once he'd moved away from the traditional understanding of hell, many Christians didn't want anything to do with him. The subject of his books and talks was irrelevant. Bell was a heretic. He should be shunned.
Bell likens this pivotal moment to a death. He had to come to terms with the fact that he may have lost his audience, and 'had his moment'. All this makes the gratitude he later expresses for his current success even more meaningful.
But Bell's pre-Love Wins career is more of a prologue - the majority of the film is focussed on it's impact on Bell, personally and professionally, and Bell's work now - the cameras follow him around on two tours - his What is the Bible? book tour and his Bible Belt speaking tour of the last two years. And this is the heart of the movie - seeing Rob not just on tour speaking, but mainly in one to one conversations with the director, caught on camera, everywhere from the back of cars travelling between venues, to dressing rooms at tour venues and in Bell's famous 'backhouse', about the Church, toxic religion, and getting to the heart of his own spirituality and beliefs - this where we see Rob's heart, and it's the heart of the movie.
When I interviewed the director for my podcast, he mentioned that this movie was, for him, about coming to terms with his own spiritual journey, and the conversations with Bell were birthed in his own exploration of his spirituality. In many ways, we're part of these conversations, listening to Bell's take on Jesus and the spiritual journey, and what a life of faith really means. It's as if Rob is speaking to us all, as friends and companions on this journey.
All this is set against the backdrop of the election of Donald Trump as US President, which occurred during the making of the film, and the evangelical Church's support of Trump - indeed the film shows a vivid clip of Franklin Graham speaking to a large crowd on CNN, about how it was God who won the election for Trump.
This presents a powerful contrast between what is presented as a patriarchal, conservative, hyper-religious and legalistic evangelical Christianity, and Bell's raw, authentic, inclusive Christian spirituality, with it's non-violent message of love, hope and freedom, where everyone belongs.
I admit to being deeply moved by what is an excellent documentary, hearing Bell's story in his own words, which sees him be more honest than ever about his own story, and his own beliefs. The close of the film shows Bell performing his daily spiritual practice - surfing. As the waves crash in during the beautiful LA sunrise we hear Bell voice, in many ways summing up his entire message:
"Everything you are working and striving for you already have. The fundamental good news, what is often called the gospel, is the announcement that you're loved - exactly as you are."
The great irony of a movie called The Heretic, is that it demonstrates without doubt, that its subject, Rob Bell, is anything but a Heretic, and might in fact be a key figure in keeping the message of Jesus alive into the next century, and beyond.
The Heretic is available on iTunes and Amazon Prime now.
James Prescott is an author, blogger writing coach and podcaster from Sutton, London. He has written for the Huffington Post, and authored four books including Mosaic Of Grace; God's Beautiful Reshaping of Our Broken Lives. James also hosts the Poema Podcast, exploring spirituality and creativity. You can find his writing at jamesprescott.co.uk and follow him on Twitter at @JamesPrescott77