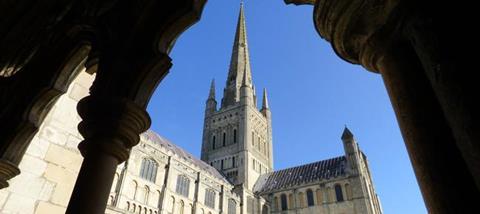 The resurgence in the popularity of cathedrals is evident. According to the Church of England's Cathedral Statistics there were 9.4 million visitors to cathedrals in 2015.
The sociologist Grace Davie has explained how unlike a parish church, cathedrals make "no demands" on the visitor, instead offering "vicarious religion" and the option to come and go without explanation or commitment.
In a cathedral you can hide your faith behind a pillar with none of what Andrew Brown and Linda Woodhead have called "all that banging on about Jesus".
While we should celebrate the fact that millions of people are able to visit cathedrals and enjoy a low-key entrance point, we should also ask ourselves – are these visitors actually encountering genuine forms of the Christian faith, or merely viewing an old building? And if it's the latter, how can guided tours help visitors to have an encounter with the spiritual reality which our church buildings speak of?
The stones cry out
There's a reluctance among some Christians to consider how tours can be re-imagined in this way. But we needn't be shy. As visitors to Buddhist temples and synagogues will know, tours are often primarily faith based. One tour of a mosque I went on concluded with an invitation to have the Islamic faith explained for anyone who would like to stay.
In cathedral tours we have an opportunity to engage with the public and present the presence of God using the stories and objects others created in their worship of him down the ages. The guided tour ought not to shut out any opportunity to further God's mission in the very place we ought to find him.
A trawl of TripAdvisor for Norwich Cathedral provides many positive reviews of guides and my experience is that they are warm and welcoming individuals, but sometimes it seems the stones themselves cry out. Take this review from 2012 as an example: "Me and my friend come from different religious traditions - I am Muslim and she is Christian (Anglican) - but while touring the Cathedral - we were able to explore the commonalities of our faith traditions. We share many things including our love for Jesus Christ or Isa - as he is known in Arabic (peace be upon him) and the Cathedral, with its ethos of spirituality and also its space for the new and the old to coexist, allowed us to have this conversation."
It seems to me that opportunities for mission are being missed. On my own visit to Norwich Cathedral we were shown the tomb of Thomas Gooding and these dire words:
All you that do this place pass bye / Remember death for you must dye / As you are now even so was I / And as I am so shall you be
The guide pointed out that this was not very cheering on such a gloomy day. He neglected to point out the positive that for those of the faith there is the prospect of the kingdom of heaven both now and eternally.
Overlooked opportunity
It is incongruous, but perhaps indicative of the modern distrust of evangelicals, that a guided tour of one of our significant religious buildings should be a dry as old bones as far as our faith is concerned.
What if we began to think of guided tours as missional opportunities? Just as Public Theology looks to provide new platforms in which the church can engage in ways that are acceptable within the public domain, I believe guided tours ought to include some aspect of education, elaboration and story upon a topic from Christian theology.
All cathedral tour guides are equipped by some level of training which includes elements of acceptable behaviour and treatment of the general public. From a mission viewpoint, the problem is that many who volunteer to be guides have no faith, but just an interest in the history, the architecture and the art. Arguably these are important aspects but result in no appetite for God's mission to reveal himself.
Two guides I spoke to who are both Christians and have been Cathedral guides at two different cathedrals said that their training did not include any faith based aspects. The guide at Norwich Cathedral had been so disaffected that he was now conducting historic guided tours for the City of Norwich instead.
Clearly someone attending a guided tour would not expect to be met with an evangelical tirade demanding conversion to Christianity. However one member of the clergy told me that she entered a church one time in order to pray. She was met by the equally evangelistic historian wanting to ensure she had a full understanding of the historical significance. This is surely counter-mission.
But Jesus always wanted to engage with the humanity of those who surrounded him and with wisdom and prayer the proposition is that the guided tour has some value in public theology, even if by subversion. Somewhere there is a story, not just a historical one – but a story that engages with, uplifts and entangles the hearer within the fascination of a spiritual experience.
God wants to reveal himself
In Acts 17 we're told Paul stood in front of the Areopagus and said, "Athenians, I see how extremely religious you are in every way. For as I went through the city and looked carefully at the objects of your worship, I found among them an altar with the inscription, 'To an unknown god. What therefore you worship as unknown, this I proclaim to you. The God who made the world and everything in it, he who is Lord of heaven and earth, does not live in shrines made by human hands..."
This is public theology at its most blatant. If Paul can make a statement in the context of a building dedicated to foreign gods then would he not also say to us: "Conduct yourselves wisely towards outsiders, making the most of the time (or opportunity)." (Colossians 4:5)
In volunteering myself, Gill, who is in charge of the visitor experience at Wymondham Abbey, shared with me the history of the Abbey with stories and insight. In our conversation afterwards she said to me "I used to be a church-goer, but I don't go any more." I was touched by an honesty that suggested that our stories are all interwoven and God is still working his mission and that mission is not one of condemnation, but compassion for people, offering each of us grace rather than dogma, hope instead of fatalism, life that still has potential to change into fullness.
If I were in charge of the guided tours at a Cathedral would I declare that from henceforth all guides must be Christian? The conclusion I have come to is: no, but I would give the time and effort to the guides as one responsible for their welfare and spiritual growth.
Can the guided tour be mission? Yes, but, everyone, including the existing guides, are already part of God's mission, as we are all part of a loved people. What appears to be missing is our leadership's recognition of mission in this form: that God seeks to reveal himself to those he loves.
Sam Denniss is a Maths graduate who worked as an IT Manager with the University of Liverpool and he has spent a number of years in evangelical church leadership. Since retiring he has trained as an Anglican Reader with the Parish of Heswall in the Diocese of Chester. He is married with three children and he and his wife, Barbara, have now moved to Wymondham in Norfolk to be near their new grandson.
SPECIAL: Subscribe to Premier Christianity magazine for HALF PRICE (limited offer)