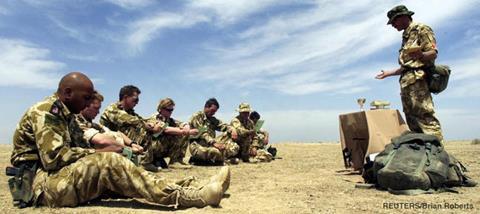 William Wade knocks on a door at an army base in Germany. The door is opened by a big man, his body blocking the entire door frame. He doesn't say 'Hello' or 'Who are you?' Instead, the first words from his lips are: 'If there's a God, why did Dunblane happen, and all those children get massacred?'
The man is Jay, a soldier in the British Army. Wade had knocked on his door in his role as scripture reader at Jay's army base in Gütersloh, Germany. Jay's question about the 1996 Dunblane massacre in Scotland, in which 16 schoolchildren and a teacher were murdered by a lone gunman, took Wade by surprise. 'That's the thing I like about soldiers,' Wade says. 'They'll ask you very personal and direct questions.'
Wade is employed by the Soldiers' and Airmen's Scripture Readers Association (SASRA), one of many Christian organisations with a ministry to the armed forces. Some of these organisations, such as SASRA and Alpha for Forces, have an evangelistic focus, seeking to bring the gospel to soldiers. Others, such as the Armed Forces' Christian Union (AFCU) provide prayer support and a strong sense of Christian community. In addition to these organisations, Christian chaplains – also known as padres – are embedded within the armed forces as employees of the military.
WHAT IS A PADRE?
Padres are ordained ministers and priests from a wide range of denominations, including Anglican, Catholic, Methodist, Baptist, URC and Pentecostal churches, as well as being commissioned officers within the armed forces who wear military uniform. The British Army has around 140 full-time chaplains. On top of that, 50 part-time chaplains work for the Army Reserve. Another 100 chaplains work with the Army Cadet Force, a national youth organisation sponsored by the Ministry of Defence.
CHAPLAINS ARE AN INCARNATIONAL PRESENCE WHO BEAR WITNESS TO PEACE
'Chaplains are employed and paid by the army, but still under the ecclesial authority of the Church,' says Rev Richard Smith, the British Army's staff chaplain. 'You have a dual allegiance in a certain sense. But you can't function in the army without the Church's backing. So it's actually the Church that's in control. You operate under the traditions and disciplines of your denomination.'
Every unit in the British Army has its own chaplain, a tradition that dates back to the end of the First World War in 1918. Chaplains live on base with their units, go on training operations with their units, and are deployed in combat zones with their units.
Rev Mike Thomason, Westfalen Garrison chaplain, says: 'The ministry is very incarnational, in that we live in the same housing areas [as the soldiers], we work with them, we go on operational tours with them and we have to pass the same tests as they do. There are times when you feel the same pain. This creates a relationship and trust, so that when life gets hard they will come and see us for support and care.'
According to Smith, the strong attachment a padre has to a unit creates a sense of 'ownership and belonging', both for the chaplain, and for the soldiers and officers. 'Soldiers on the ground want to have a chaplain,' he explains. 'They call them "our chaplain".'
The role of a padre is threefold. 'We are here to provide pastoral, moral and spiritual support to soldiers and their families,' Thomason says. Or as one anonymous soldier who was interviewed for a research project on chaplains put it, the padre 'provides a listening ear, [a] shoulder to cry on [and] spiritual support'.
Armed forces chaplains also provide moral guidance through teaching soldiers the army's core values. These are courage, discipline, respect for others, integrity, loyalty, and selfless commitment. 'None of these are in any way at odds or incompatible with the Christian faith,' says Rev Catherine Gillham, chaplain to the Queen's Royal Lancers.
PASTORAL CHALLENGES
Pastoral care in the armed forces comes with its own unique challenges. Smith points out that the pastoral situations a chaplain faces are often 'more extreme than a parish priest would have to deal with'.
Gillham sees her pastoral role as enabling people 'to have space to express the inexpressible, and to accept them in that'. The difficult pastoral situations Gillham has faced aren't necessarily what she had expected before she began her ministry to the army. 'You imagine that you know the sort of questions you're going to get asked,' she says. 'Sometimes people assume the most difficult situation is having engaged during conflict [and] shot someone.'
In Gillham's experience, that isn't always the case: 'One of the more difficult questions has been when someone has chosen not to [shoot], because they're uncertain, [and] in the heat of the moment decisions have to be made so quickly.'
THE PADRE PROVIDES A LISTENING EAR, A SHOULDER TO CRY ON
She continues: 'I've had a very difficult conversation with somebody who didn't act, and the consequences of that were equally as difficult as if they had pulled the trigger. I wasn't prepared for that scenario.'
TAKING LIFE
That said, many soldiers struggle with the fact that their job may require them to take life. Rhett Parkinson, a retired soldier who served for 20 years as an officer in the Royal Engineers, reflects: 'We ultimately are called to, on the one hand, be prepared to lay down our lives for Queen and country, and with equal trepidation and responsibility we take life… Thankfully I've never had to take life directly.'
For soldiers who have had to do so, it can prove a heavy burden. Smith explains: 'In a combat environment, there are moments when people become quite upset, angry and perhaps revenge-focused. The chaplain is the person, sometimes just by their presence, who can pull us back to the humanity that should be there.'
Wade recalls sitting with a soldier and being asked, 'I've killed someone on deployment. Can God forgive me?' The soldier then broke down into tears.
Wade's reply was resolute: 'Absolutely, he can.'
Gillham takes a similar view: 'I'm the first person to tell people that nobody is ever beyond God's reach. Nowhere is beyond his mercy.' Even so, she rarely feels able to provide a 'neat answer' to the questions soldiers ask, not least because she's supporting them in a role that involves a responsibility she would never be prepared to take on herself: to bear arms.
'That in itself brings its own ethical tensions for me,' she says. 'Chaplains don't carry weapons. Many of us are heartily glad that we've never been asked to do anything like that.'
In Gillham's view, by refusing to bear arms, chaplains are an incarnational presence who bear witness to peace. 'We are here to say that there is a different way,' she says. 'We want to be people of peace in a situation where often peace is absent.'
CAN CHRISTIANS BE SOLDIERS?
Soldiers sometimes wonder whether their vocation is compatible with Christian discipleship. Wade, who served as a soldier before becoming a scripture reader, recalls a soldier in his regiment who left the army after becoming a Christian. 'His conscience couldn't hold on to that tension,' Wade says.
In a similar vein, Smith says soldiers have quizzed him: 'Padre, doesn't the Bible say: "Thou shalt not kill"?'
Before he joined the armed forces, Parkinson was 'deeply challenged' by some of his friends about his decision to become a soldier. 'They could not understand how I, as a Christian, could join the British Army,' he says. Parkinson spent months praying, debating with his friends and studying the Bible, and eventually concluded that his sense of calling was compatible with his faith. He cites the soldier to whom Jesus said, 'I have not found such great faith even in Israel' (Luke 7:9), and the fact that a centurion at the foot of the cross was one of the first people to recognise Jesus as the Son of God.
Additionally, in Acts 10, the first gentile Peter brings to faith is Cornelius, a centurion. 'If soldiering was such an anathema to Jesus and subsequently to the early Church, then I think God would have dealt differently with soldiers,' he says.
Gillham believes it is healthy for soldiers to morally reflect on their role, even if it is impossible to resolve all the ethical tensions. She says it would be 'worrying' if no one was asking the questions: Is it ok for me to carry a weapon? Is it ok for me to engage in war? 'Jesus was always where the hard questions were,' she says.
JOY AMID HARDSHIP
The challenges of a padre's role are not all pastoral and theological. Both Gillham and Thomason cite fitness as something that doesn't come naturally. 'I have to push myself to keep fit,' Thomason says. He adds that the soldiers he works with 'remind me that the problem is that I'm old – I'm only 38! – and so that is why I am slow'.
Despite these challenges, all the chaplains I spoke with expressed a strong sense of joy about their work. 'I love everything that this ministry has to offer,' Thomason says. 'I look forward to coming back to camp after any leave period and seeing those I am called to care for.' Likewise, Smith considers his work to be a 'real privilege'.
'Soldiers are just wonderful people, with great humour, great humanity and great compassion,' Gilham says. 'You come in thinking you're going to be looking after them, and in fact they often end up looking after you. And you learn as much from them as you hoped you would bring to them.'
David Masters is a freelance journalist
CASE STUDY: AFCU
Names: Rhett and Liesel Parkinson
Organisation: Armed Forces Christian Union (AFCU)
Role: Rhett is membership development officer and Liesel is head of ladies' ministry
Current deployment: Aldershot, UK
Length of service: Rhett (now retired) served for 20 years in the Royal Engineers
Previous work: As a major in the Royal Engineers, Rhett served in Belize, Bosnia, Kosovo, Northern Ireland, Germany, England and Iraq
The AFCU, which traces its roots back to 1851, provides prayer support and fellowship to Christians serving in the military who face unique challenges due to their vocation.
According to Rhett, loneliness and fear are two key challenges that all soldiers, including Christians, face while on operation. Loneliness, because they are deployed a long way from home and opportunities to meet with other Christians on base can be 'few and far between'; and fear because they are in a hostile environment where 'people are shooting at you or want you dead'.
Additionally, soldiers often work 'very long hours'. As such, Rhett particularly appreciated that the AFCU provided the opportunity for Christian fellowship with 'people who understand the demands of military life'.
'The AFCU has been our church with a small "c",' he says. 'Knowing that somebody was praying for me and my family, whether we were together or apart, was invaluable.'
While Rhett served in the army, Liesel organised Alpha courses for soldiers and their partners. In her experience, one of the main difficulties soldiers have with the Christian faith is the idea of relying on God. 'Military people find that very hard, because everything in your training is about self-reliance and team reliance,' she says.
Nonetheless, she enjoys her work. 'They ask hard questions,' she says. 'They're very real.'
CASE STUDY: SASRA
Name: William Wade
Organisation: The Soldiers' and Airmen's Scripture Readers Association (SASRA)
Role: Civilian scripture reader
Current deployment: Gütersloh, Germany
Length of service with SASRA: 13 years
Previous work: Soldier for the British Army deployed in Germany, Northern Ireland, England and Saudi Arabia
Wade's role is focused on evangelism. 'Our remit that cuts over and above everything else is to tell soldiers about Jesus,' he says. 'We are absolutely committed to sharing the gospel with soldiers.'
How do scripture readers share the gospel? 'We have the permission from commanding officers and the hierarchy within the military to go out in the evenings to the blocks where the soldiers live,' Wade explains. 'Our job is going from block to block and room to room doing, in a sense, door-to-door evangelism.'
Wade himself joined the army after becoming a Christian as a teenager in his hometown of Belfast. 'I'd lived my life in a less than noble way,' he says. Wade's father was a loyalist paramilitary, and as a teenager Wade accrued various criminal convictions. 'I thought that as a Christian a noble thing to do might be to get out of the estate. One of the ways to do so was to join the army.'
After serving in the army for several years, another Christian soldier prompted Wade to think about joining SASRA.
'I said, "No thanks,"' Wade says. 'It wasn't what I thought I should be doing.'
The soldier persisted, and Wade agreed to meet with the leader of SASRA in Northern Ireland. 'As I spoke to him, something gripped my heart,' Wade says. 'It felt like there was fire in my belly. I left the house thinking, "I wonder if God is in this." So there began a 15-month process of application to join SASRA.'
Any reluctance about his role that Wade had in the beginning has now completely disappeared. 'Opportunities to do creative evangelism are what get me up in the morning,' he says.