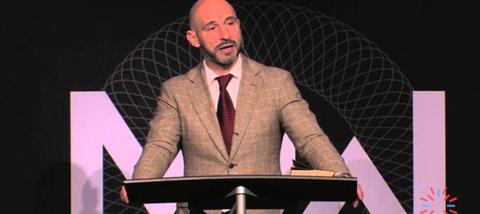 So Gavin, most people will either know you for your football playing days at Chelsea or your TV punditry, but let's go back to the beginning. Growing up, was it always going to be football?
It was, I was brought up in a footballing family. My dad, Keith, played for Charlton Athletic for 17 years in the 1960s and 70s, and so I grew up at the Valley watching him play. All I ever thought about doing was following in my dad's footsteps. That was the goal for me, like a lot of schoolboys, that was the dream. Of course I had someone like my dad who could be a hands-on coach from an early age.
Looking back, what would you say was your career highlight as a player?
Well I didn't win things like so many great players have won, for me though there were a few things. Getting promotion with Newcastle was great, getting to the FA Cup Final with Chelsea in 1994 was great, but I think the highlight of that season was the two goals that I scored against Manchester United, home and away. A personal one would have been for one game only, scoring two goals against Luton in the semi-final of the FA Cup in 1994. We won 2–0 and we played it at Wembley.
Who is the best player you've played with and why?
I played with some great players, like Ruud Gullit, Mark Hughes, Gianluca Vialli and Gianfranco Zola, but I still maintain that Glenn Hoddle was the best one I played with. He was a maestro. Kevin Keegan called me up when I left Newcastle and he said that I would learn more from playing with Glenn in training than anyone else, and that certainly was the case. It was as if Glenn had this computerised mind that could see everything on the field, pick the most dangerous option and make the perfect pass. I learnt a lot from Glenn. I would say he had the best football mind.
Now let's reverse that: best player you ever played against?
The best player I ever played against in my time? I'd plump for Eric Cantona, just from my time in the Premier League. For a period there I thought he just had something special, Manchester United were a great team and it was a great era for them. He was the linchpin, the key; he not only had great ability, he had great strength and power and he just had this awesome presence on the field.
You said in an interview 'Football was my God as a youngster but it didn't satisfy, I was empty.' What did you mean by this?
I always wanted to be a footballer, like a lot of schoolboys did. I then got that and achieved that goal. Suddenly I am a professional footballer at 18 years old, I am playing for QPR in the top division, I've got money in my pocket, I've got a nice car, I've got a career, I've got a little bit of fame growing as it were, and yet I wasn't satisfied. I wasn't happy – if I played well I was up but if I played badly I was down, because I had put all my hope in football. Then I just went along to the local church that I was living near with my parents at the time, and I went one Sunday evening. I heard the minister preach but he invited me back to his house after for a youth meeting and I thought that I'd pop along there, I didn't expect too much. When I walked into that youth meeting there were maybe six young people my own age there and I walked in with everything the world says will bring you happiness and success. I walked in and then heard them talk about Jesus Christ and then I heard them pray and there was a reality to their faith and a joy that I didn't have. I thought, like a lot of people, 'Yeah, God's up there somewhere,' and that I would shoot up a prayer if I was in a bit of trouble – it had no bearing on my life. So it was then that I began to hear the gospel and the gospel means good news, so I repented and trusted in Jesus Christ.
Do you have a Bible verse you particularly cherish or always go back to?
I think Matthew 6, when Jesus says to not worry about tomorrow, tomorrow will have enough worries of its own, and it's a passage where he is talking about how God clothed the flowers in the field, he feeds the birds in the air, how much more his children? It says how much more is he going to care for you now that you are a child of God, and for me being in such a precarious job where you could lose your career with one tackle in football, to know that God is for me and that he is going to take care of me was great security to me.
In what is such a materialistic and money-driven industry, how hard was it to be a professional footballer and a Christian?
Well, as you say, it's a money-driven career. I earned good money, I didn't earn the money that they do now at Chelsea, so Dennis Wise and I used to go and battle for an extra £50 on our win bonus. Jesus says that the love of money is the root of all kinds of evil, not necessarily having money, so it's then what you do with it and how you use it. Do you love it or can you hold these things up to God? For me, being a Christian and a footballer, I am in a local church and hearing the word of God, reading the Bible myself and am around other Christians. It's very important because you are being encouraged and then other Christians keep you grounded even when there may have been certain temptations to move off course.
At what point did you know God was calling you into church ministry?
When I retired from football in 2002, I actually went into the media for a while with the BBC, and that was going quite well, very well in fact. I was really enjoying it but the Lord powerfully called me to ministry around 2005-06, and I really sensed a call to teach this word, so I was given some opportunities to preach and did some studies at Cambridge University, in Old Testament and new Testament studies. It was then I knew that I needed to give it up [the BBC] because I wanted time to prepare properly for pastoral ministry. Then I decided that I could do it in England or I could look at leaving the country away from the public profile. We had been going to Canada for a little while, so after some prayer and some thinking, my wife and I decided to move there in 2008.
How often do you slip your football playing days into your sermons?
I have maybe mentioned it a couple of times, in terms of if it fits the passage. I will use certain metaphors but good preaching demands that the passage dictates and then the illustrations should come, short and sharp, out of that. So if it fits, now and again, but if not, then I won't.
This extract has been taken from Cross the Line by Ollie Baines and Liam Flint (SPCK, 2016).
Click here to request a free copy of Premier Christianity magazine