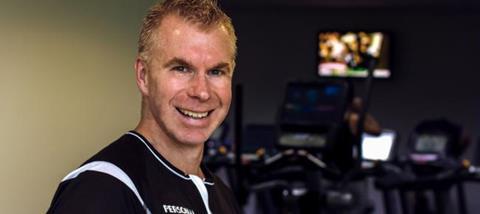 I was 30 years old when I woke up to the fact I'd become a depressed Christian with no purpose in who I was.
I didn't care about my body and was seriously overweight. I also had an addiction to cigarettes and fatty food. I was diagnosed with depression and found the GP was quick to prescribe anti-depressants.
I decided it was time make some serious changes to the way I lived and began focussing on my health for the first time in my life. One day on the way to work I prayed to Jesus, recommitting myself and my health to him.
Over the next six months I pushed myself to give up bad habits. I challenged myself to run a mile a day (even though I couldn't even run for a bus). The first week was horrific. I was shaking and chucking up black mucus as my body was going into shock and clearing out all the bad stuff. But somehow I got through it.
One year later I'd lost all the weight. But even more importantly, I had found purpose and my heart was gradually realigning to how Jesus would intend.
Over the next decade, I accomplished things I never thought possible. I ran three London Marathons, won my category in the 2003 triathlon corporate games and climbed two of the highest mountain sections of the Tour de France.
Today, I'm qualified as a personal trainer and teach others how to achieve similar success in balancing health, fitness, family, work and a social life.
God cares about your health
Looking after your health and fitness glorifies God. 1 Corinthians 6:20 says "you were bought at a price. Therefore honour God with your bodies".
Keeping fit is something that God certainly wants you to do. But it's also difficult, and something the devil doesn't want you to do.
We're comfortable asking God for help in our spiritual lives. But why not ask him for help with our physical lives too?
I saw a sign recently which read: "I have cleared everything out of the house that's bad…It was delicious!" It made me laugh, but it's worth reflecting on how most of our appetites and choices have developed so anything that is health related is immediately seen as boring and lifeless.
If this is your view of healthy food, have a look at the likes of Wild Food Cafe and Fit-Fish. Healthy food never looked so delicious!
I still love chocolate cake and fry ups but the difference is I now have a better understanding of the limits of what is good for my body. Discovering this can take patience, time and sacrifice. Finding out what works for each of us, in terms of our eating habits, is something we were not born instinctively knowing about. Its something we learn.
Some are shocked to learn that sugar, for example, can have a big effect on your mood swings. Too much of it can also lead to diabetes and other health problems. Our bodies need things like proteins, carbs and fats. But a healthy body can actually operate perfectly well without sugar.
Choose Health
Being healthy is a choice. If you don't find time for health and fitness, your body will find the time for illness. But if you make the right choice, you'll have more energy to use for God's glory.
I am a great believer that if someone wants to do something and is prepared to set themselves achievable goals and prioritise their health and fitness, then anything is possible.
I've learned that life is never going to be an easy ride but hard obstacles can be overcome when we find purpose in who we are.
If you don't find time for health and fitness, your body will find the time for illness
Where does the motivation come from to do this? It can only be Jesus. We're comfortable asking God for help in our spiritual lives. But why not ask him for help with our physical lives too?
Every one of us has a unique DNA with our appetites, desires of the heart, heath and God-given gifts.
One phrase which I've found to be true is: "We don't stop doing health because we grow old. We grow old because we stop doing health."
I believe that God wants us to take care of ourselves. I have first-hand experience of how God has worked in my life, helped me overcome depression and find purpose. Thanks to Jesus, I've accomplished things I previously never thought possible.
Wherever you're at in your journey of life, my hope and prayer is that you'll take your health and fitness seriously so you'll have more energy for yourself, your family, your friends and ultimately Jesus and his work.
As 3 John 1:2 says: "I pray that you may enjoy good health and that all may go well with you, even as your soul is getting along well."
Jez Godlonton is a wellbeing trainer and nutritional adviser. For more information visit fat2fit.me.uk
Are healthy eating and exercise vital for Christians? Listen to dietitian and lifestyle expert Angela Tells on Premier Christian Radio's Woman to Woman programme today from 10:30am. Or listen again online.