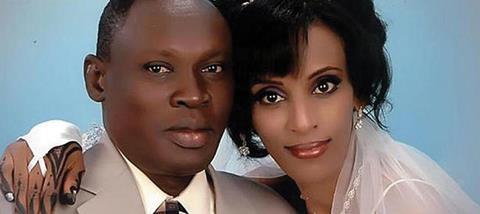 Ibrahim was heavily pregnant when she was placed on death row for 'apostasy' and was refused hospital treatment during labour. She was placed on a table with her legs shackled as she gave birth to daughter Maya.
She alleges that doctors who examined Maya have attributed the alleged physical disability to the circumstances surrounding her birth.
'Something has happened to the baby,' she told CNN. 'I don't know in the future whether she'll need support to walk or not.'
The 27-year-old Christian was sentenced to death on the grounds that while she had been brought up according to her mother's Orthodox faith, her father was Muslim. Her conviction was overturned on appeal following intense diplomatic pressure and a vast online campaign.
After her release, Ibrahim, husband Daniel Wani – who has joint US and South Sudan citizenship – and their two children were detained at the airport and accused of travelling with 'forged' papers as they attempted to flee to the US.
'How can my paperwork be wrong? My paperwork came from the embassy. It's 100% correct and it was approved by the South Sudan ambassador and the American ambassador,' she told CNN.
Following her release, the family was offered refuge at the US embassy in Khartoum, where they remain at the time of writing, after receiving a number of death threats.
Christian Solidarity Worldwide's chief executive Mervyn Thomas said it was 'appalled' by the threats against her. He urged the international community to 'hold the Sudanese authorities to account for her safety and that of her lawyers'.