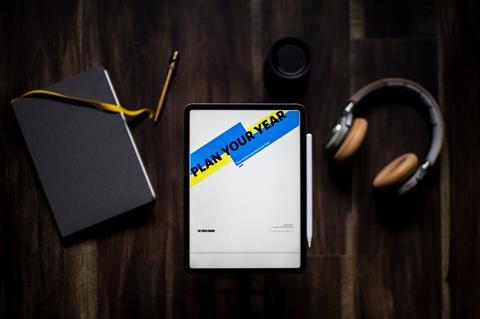 It's a little like being Cinderella. The moment the clock strikes midnight everything changes.
Except rather than rags to riches we go from feast to famine, and instead of losing a shoe we lose the will to live.
The minute New Year's Eve turns to New Year's Day a peculiar change takes hold of the world as we know it, and throttles us until we bend to its will:
NEW YEAR, NEW YOU.
Adverts that preached excess and indulgence at Christmas swiftly changed their tune to discipline and determination. Bookshops mutilate their gift and humour displays, leaving only dieting bibles and de-cluttering manuals in their wake.
It is like falling victim to cultural whiplash - one minute we are festive, family-orientated and telling ourselves to be merry and bright, the next we are told we are nowhere near thin, pretty or talented enough. Today on 'Blue Monday', we're even being told we're not happy enough. Apparently we're in desperate need of a total makeover.
We fall for it every year, even though it makes us miserable, it is another sales tactic, and we know it, yet our fingers inch towards the self-help pages as if compelled from on high. Yet, as Christians, surely we know this is not God's idea?
God didn't create the world to breed jealousy, dissatisfaction and self-hatred. Jesus didn't rise from the dead to sell something. No - he is giving us something. Not something we dare ask for because the gift is too great, and certainly nothing stocked in the Argos catalogue.
He gives us grace.
Yes, I find it difficult too. In a world where self-improvement is an art form, and where people have built their livelihoods on making us feel inadequate, where we are defined by our weight, our Twitter followers, Instagram likes and bank balances, it seems implausible that, to paraphrase Bridget Jones, God loves us "just the way we are".
Yet everywhere we look in the story of our saviour this message is repeated.
We do not have to be strong: "Three times I pleaded with the Lord to take it away from me. But he said to me, 'My grace is sufficient for you, for my power is made perfect in weakness.' Therefore I will boast all the more gladly about my weaknesses, so that Christ's power may rest on me." (2 Corinthians 12:8-9)
We are not made whole by great works or achievements: "For it is by grace you have been saved, through faith—and this is not from yourselves, it is the gift of God— not by works, so that no one can boast." (Ephesians 2:8-9)
We don't have to transform: "No! We believe it is through the grace of our Lord Jesus that we are saved, just as they are." (Acts 15:11)
'New Year New You' might be a good tag-line, and an even better sales pitch, but it cannot buy you happiness, hope, or a happy ever after.
Our fairy tale ending lies not in guilt, or sacrifice, or resolutions, but in the acceptance of grace, to allow our imperfect selves to be loved, just as we are.
Hannah Cooper is an entertainment journalist
Click here to request a free copy of Premier Christianity magazine