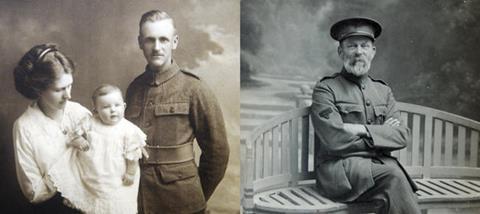 When the news that war had broken out spread across the UK on 28th July 1914, Thomas Winter – my great-grandfather – was busy running the village school and the local Baptist chapel's Sunday school, as well as his own Buckinghamshire farm.
He was 59 and too old to sign up, so instead he joined the YMCA. He would go on to run the social centres that soldiers could use when away from the front line, and soon became known to many as 'Daddy'.
'He wanted to do his bit in whatever way he could,' says my mother, Mary Southam. In 1914 he left for France and then Italy, where he ran YMCA huts. His unpublished diaries provide an insight into his training for the work, during which the YMCA taught him that 'there is a chariot of fire about us' and that he was to 'be a witness for the truth'.
As well as being armed with the knowledge that an 1lb jar of Bovril made 48 cups of hot drink, he also recorded in his diary that he was to 'help someone know they are saved'.
Winter's war involved building the so-called huts from scratch, and in Marseilles he was asked by the officers to provide courts for tennis, baseball and badminton, as well as a cricket pitch with netting. In Italy he formed a choir of 40 men and led Sunday evening services and concerts. 'He was mature enough to be able to be a good friend and give counsel to soldiers who were perhaps having a really rough time,' my mother says.
My great-grandfather was just one among many unsung Christian heroes who served our country and played their part in the war effort. These stories include not only the hardship and sacrifice of many soldiers, but also the courageous faith of front line chaplains, the isolation of wives raising families alone, the powerful convictions of conscientious objectors, the stoicism of the bereaved, and even the faith of those fighting on the enemy side.
Dr Michael Snape of Birmingham University says that religion was used as a strong motivator for people to fight – no matter which country they came from.
'One of the classic texts used was the story of the Good Samaritan,' he says. Belgium was seen as the victim of an attack and needed support. The German Kaiser, Wilhelm II, was often described as the biblical antichrist and the war was seen in 'apocalyptic' terms as the end of the world.
Yet in 1910 the Kaiser wrote that he turned to the Bible for guidance, according to documents in the Bible Society's archive. 'In all my thoughts and actions I ask myself the question, "What does the Bible say on the point?" The Bible is the source from which I draw strength and light. In hours of trembling and fear I lay hold of this treasure of comfort.'
As modern warfare tipped the world into a new era of brutal conflict, people on both sides would depend on their Christian beliefs in the midst of the Great War.
So how did faith survive in the trenches and on the front line? And how did those left behind allow God to shape their contribution to the war effort?
"ASSUMING WE SURVIVED, THE QUESTION OF WHETHER OUR CONSCIENCE SURVIVED TOO DEPENDED ON WHETHER WE BELIEVED IN THE FORGIVENESS OF SINS"
THE IRISH ARMY CHAPLAIN
Father Willie Doyle, a Jesuit priest from Dalkey, Ireland, was 41 when the war broke out. He was a man with evangelistic zeal who had run 152 missions and retreats in the seven years running up to the war.
Battalion officer Frank Laird later remembered Doyle as 'a very pleasant man to meet at any time and most of all in a bad time', writes Carole Hope in Worshipper and Worshipped (Reveille Press).
Laird added that Doyle was 'welcome in every mess' and that the 'men worshipped the ground he trod on'.
'When shells dropped round, ordinary mortals took cover or fled in an opposite direction,' Laird said. 'Father Doyle made for them to see if he was wanted.'
However filled with violence his experience on the front line had been, Father Doyle's letters home revealed a steady faith in God's care. In one letter, not long before he was killed at Passchendaele in 1917, he wrote, 'I shivered with fear for we were now right in the middle of the barrage and the danger was very great, but my courage came back when I remembered how easily He, Who had raised the tempest, saved His apostles from it and I never doubted He would do the same for us. Not a man was touched, though one had his rifle smashed to bits.'
Father Doyle died in August 1917, having run 'all day hither and thither over the battlefield like an angel of mercy'. He was awarded the Military Cross, but his body was never recovered.
THE BATTLEFIELD PREACHER
Another young man who died tragically young at Passchendaele was Albert Penn. Penn was not long married, and his wife Florence had just given birth to their daughter when he signed up. Devout and sincere Christians, they'd met at the Wesleyan Methodist chapel in their village, where he ran the boys' Bible class and she ran the equivalent for girls.
Penn was refused when he first volunteered because Florence was pregnant. 'Come back when the baby is three months old,' he was told. He did. Eight months later, when baby Mary Estelle was just 11 months old, he was dead.
Penn died on 30 October 1917; he was just 28 years old. His body was never found, but his name is listed among the missing soldiers on the memorial at Tyne Cot, near Ypres in Belgium.
Five days before he died, a member of Penn's Bible class from home was being stretchered away from the front when he saw Penn. 'My grandfather was standing outside in the open field with Bible in hand finishing a talk to the young soldiers,' says Penn's granddaughter, Cynthia Hardiman (71). 'He then led them in singing the hymn "Rejoice, the Lord is King".
'...He was still, at heart, the leader of the young men's Bible class to the very end,' Hardiman says. 'In that situation he was still preaching. He was still encouraging young fellas and trying to keep up morale. I like to think that, in that terrible time, he didn't keep the faith, the faith kept him.'
THE GERMAN U-BOAT SOLDIER
Firing torpedoes at a French ship from his U-boat was a turning point for Christian German soldier, Martin Niemöller.
The 23-year-old son of a preacher, Niemöller joined the war effort in 1915 and was immediately assigned to work on U-boats. Two years later his craft fired on a French ship that was trying to rescue the survivors of another torpedoed vessel. It was an incident that changed his attitude to the war, and wars in general.
He later said, 'The whole complex problem of war presented itself as we realised, from this single experience, something of the scale of the tragedy involved.
'It was utterly impossible to preserve a clear conscience. Assuming we survived, the question of whether our conscience survived too depended on whether we believed in the forgiveness of sins.'
In 1918, Niemöller's own life hung in the balance when his U-boat was struck by an Allied convoy. His ship was forced to dive, leaking water, and wait until nightfall before she could emerge again. Everyone's lives were at risk.
Niemöller found himself asking the big questions of life: Is there a God? Is there a purpose in life? His last task was to return his U-boat to the naval port of Kiel following the armistice in November 1918, but he got horribly lost and ended up passing through mine-infested waters near Corfu. Niemöller described his survival as 'a miracle', adding that he therefore believed that 'some new task' awaited him.
Perhaps it's no surprise, therefore, that after the war, Niemöller joined the Church like his father and became a Lutheran pastor.
"I ASK GOD'S HELP AND IT'S HIS SUPERVISION THAT TAKES ME THROUGH THE MONOTONY AND LONGING WE ARE SUBJECTED TO"
THE LETTER-WRITING BIBLE TEACHER
The centrality of the Bible through the war years also shines through the story of Lilian Hayman, who ran Bible classes in Brighton and, later on, in Bournemouth. During the war, Hayman became a committed letter-writer, staying in touch with her Bible class pupils – her 'boys' on the front line. Her duty was to encourage them in their faith and give them hope for the future.
One of them was Philip Bryant, who served on HMS Queen Elizabeth. On 27th March 1915 he wrote to Mrs Hayman, 'Sometimes when I have a difficult task on hand it is a great comfort to know you are in his hands, and honestly Mrs Hayman I ask God's help in everything and I am sure it's his supervision that takes me through the monotony and longing we are subjected to.'
Later that year he wrote to her, 'I will always bless you for the way you have helped me to keep on the very Narrow Path we have to tread,' adding that he felt 'God's presence in the boundless deep'.
An insight into the nature of Mrs Hayman's Bible study classes comes in exercise books kept by Samuel Ching between 1915 and 1917.
Ching was 15 at the outbreak of the war. His Sunday afternoons during World War I were spent immersed in the teaching of the Bible and its application to the war. In June 1916 he studied 'sowing and reaping', quoting Psalm 126:5. He noted that 'our soldiers and sailors are sowing in tears in order that Europe may reap in joy'.
Hayman continued her classes right through to her death in 1944, aged 80. Her obituary appeared in the St Mary the Virgin (Bournemouth) parish newsletter in March of that year. It read, 'The large and representative congregation that attended the Requiem Mass and Burial Office on February 10 were unmistakable evidence, if any such were needed, of the profound respect and deep love felt by all St Mary's people for Mrs Hayman.'
THE PACIFIST
While a strong Christian faith motivated many to fight or to become chaplains, there were others whose faith led them to hold a pacifistic theology. Pacifism was far from an easy choice, both for the young man involved and his family. It could lead to a prison sentence, the death penalty (invariably commuted) and ostracism.
One such young man was John 'Bert' Brocklesby – a 25-year-old teacher from Conisbrough, South Yorkshire. He came from a close-knit family of four boys whose father, the local grocer, was a leading light in the Methodist church. Bert himself was the organist and choirmaster at the chapel. Before the war started he also became a lay preacher.
LOOKING TO CELEBRATE THE CENTENARY OF WW1 AS A CHURCH?
SGM Lifewords has produced a replica of the Active Service John's Gospel that was handed out to troops during the war. Available for missional purposes cost-free, or for a donation sgmlifewords.com
Hear My Cry is Bible Society's illustrated collection of psalms, poems and personal stories to aid reflection on WW1, costing from £2.50. Free resources for use in a school setting and an order of service for churches are also available on the website biblesociety.org.uk
HOPE has published Greater Love, a 16-page booklet of ideas for churches or communities looking to commemorate the Great War. Churches planning local events can access these free of charge hopetogether.org.uk
In January 1915 he taught a sermon that would define his life forever. At his home church he preached on Romans 12:19-21: 'Dearly beloved, avenge not yourselves, but rather give place unto wrath; for it is written, Vengeance is mine; I will repay, saith the Lord' (v19, KJV).
Brocklesby refused to join up. At his tribunal in Doncaster in 1916, he was asked, 'Supposing you were in a corner with your back to the wall and six men were before you with open sword or fixed bayonet. Would you not do something if you had a revolver in your hand?'
He replied, 'The Sixth Commandment says, "Thou shalt not kill". I take it that it is better to be killed than kill anyone else.' Brocklesby was ordered into the Non-Combatant Corps, a group that was exempt from fighting duties but still under the direction of the army. While many conscientious objectors found this a reasonable outcome, he thought that this was the army under another name and refused to join. His mother was sent a white feather, a symbol of cowardice. His father was urged to disown him. They stood by him, despite disagreeing with his views.
"BROCKLESBY'S MOTHER WAS SENT A WHITE FEATHER, A SYMBOL OF COWARDICE"
In 1916 Brocklesby was arrested for refusing to obey orders and sent to Richmond Castle, the base for the 2nd Northern Non-Combatant Corps. Here he was held with 15 others, later known as the Richmond Sixteen. The group, which refused to do military drills and did not wear uniform, was put on a bread-and-water diet in detention cells.
Later that year they were taken to Boulogne and stationed with soldiers, who initially gave them short shrift. But the Richmond Sixteen maintained regular prayer, and after a few days the mockery turned to respect as the soldiers began to appreciate the sincerity of these men.
In June they were all sentenced to death, but had their sentences commuted to ten years in prison. Brocklesby spent time in Winchester and Maidstone prisons before being released in 1919.
The stigma of having been a conscientious objector remained, however. It was impossible for him to live and work in Conisborough again. Brocklesby left Britain for Russia, and then went to Vienna to work on war relief.
This year we will remember the lives of those who fought during World War I at ceremonies up and down the country. As we do so, it is worth taking time to reflect on the courage and commitment of just a few of those whose stories are rarely told: Thomas Winter, Father Willie Doyle, Albert Penn, Martin Niemöller, Lilian Hayman and Bert Brocklesby.