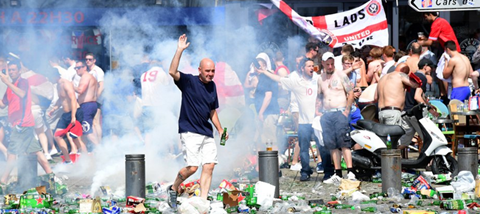 'Behave or your country will be thrown out.' This is the simple but threatening message given by UEFA.
Euro 2016 has already been overshadowed by the shocking scenes that have been carried out by a number of fans.
England's 1-1 draw with Russia on Saturday night resulted in a flood of Russian supporters breaking past the stand boundaries and pouring onto the English supporters in an onslaught of attacks. Some fans tried escaping the horror by throwing themselves off the high-stands and clambering to safety. Video footage revealed England goalkeeper, Joe Hart approaching some of the Three Lion supporters at the full-time whistle, ordering them to remain in the stadium and avoid danger, 'Stay here, keep safe!'.
French security at the game has been heavily scrutinised and even labelled by some as non-existent. Flares were ignited during the game. Stadium security should never have let these flares into the stadium in the first place.
England and Russia have been reprimanded as the main culprits of the attacks. Not only could these fans be putting their respective country's European Championships in jeopardy but more importantly, it seems that innocent lives are being put on the line. But is the reason for these attacks actually linked to football?
The simple fact is, a minority of these supporters aren't in France for the football. The stereotyped 'football hooligans' are there to cause trouble, end of. It's a sad tale that is often associated with the beautiful game and it is undoubtedly tainting the image of football. Some eyewitnesses at the England game said a few of the Russian supporters were wearing mouth-guards and boxing gloves. That doesn't sound like someone who is interested in finding out whether Wayne Rooney is playing in midfield or up-front.
In a strongly-worded statement, European football's governing body said it would not hesitate to impose sanctions on either Russia or England should such violence occur again.
The alcohol-fuelled fans are pretty much free to roam the streets of France during the championships and it seems some supporters are abusing that freedom. This is a small percentage of fans who are embroiled in the violence.
Football hooliganism, as it's known has no place in football. The players don't want it, the governing bodies don't want it and as a football fan who speak on behalf of everyone else who loves the game, we don't want it. We don't want our team to be disqualified because of matters off the field. Football is a passionate game, granted. There are times when tempers flare and emotions spark but when it ends in violence, something is desperately wrong.
I see the beautiful game as a vehicle to help others understand that there is more to life than just experiencing the highs and lows of a football team
As a Christian who loves football in every capacity (watching, supporting, playing or writing about it), I see the beautiful game as a vehicle to help others understand that there is more to life than just experiencing the highs and lows of a football team.
For years I have been so emotionally attached to football that it was an idol for me. Football was the one thing that stopped me from engaging with church and understanding who Jesus is and what he has done for me. Speaking truthfully, I would say it's only been in the last year that I can safely say that football is no longer dictating my life.
I've never been involved in football hooliganism, but it's certainly a choice – a way of life. I think it's important for us to pray for those fans who seem to feel like they have no other choice but to conform to this way of living and pray that they would encounter God's unconditional love in a new way.
These riots and scenes of violence should have no place in our world, let alone in football. It's ruining the beautiful game.
Ollie Baines (@Ollie_Bainzy) is the co-founder of Cross The Line (xtheline.co.uk) a faith and football organisation that looks to share the Gospel. His first book Cross The Line: Christian footballers talk God, faith and the beautiful game will be released in July.
Click here to request a free copy of Premier Christianity magazine