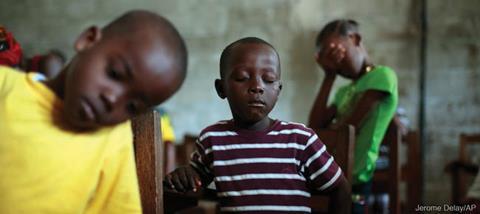 His comments came after a group of African bishops collectively opposed closing borders as a way of stopping Ebola. The Symposium of the Episcopal Conferences of Africa and Madagascar (SECAM) told Fides news agency: 'The closing of borders is not the solution to Ebola.'
SECAM also highlighted the continued suffering of West Africans, the need for continued medical support from other countries, and the need to be 'inventive' in stopping the crisis.
Meanwhile, Christian Aid claims the risk of hunger and malnutrition within Ebola-hit communities in West Africa could reduce the effectiveness of quarantine measures.
Adrian Ouvry, the charity's humanitarian programmes manager, said: 'In order to survive, families in Sierra Leone are having to break quarantine in order to earn money and buy food. We do not want a situation where a parent is faced with only two options: the risk of exposing themselves, and potentially others, to the virus, or the risk of seeing their children go hungry.
'Governments and aid agencies must recognise that quarantine will only be effective if those who are isolated are guaranteed a sufficient and constant supply of nutritious food and clean water.'
The World Food Programme is currently providing emergency food assistance to more than a million people across Guinea, Sierra Leone and Liberia. However, Christian Aid claims much more help is needed.
Approximately 4,500 people in West Africa have died from Ebola since its outbreak in Guinea in December 2013. According to the World Health Organization (WHO), nearly 9,000 people have been infected to date.
Facts about Ebola
•• The current outbreak is the deadliest occurrence of the disease since its discovery in 1976
•• The virus is thought to have originated in fruit bats
•• Symptoms include vomiting, diarrhoea and bleeding, sometimes from the eyes and mouth
•• It can take between two and 21 days for humans with the virus to exhibit symptoms
•• Twenty cases occurred in Nigeria and one in Senegal; however, both countries have since been declared Ebola-free
•• The first case treated in the UK was that of British nurse William Pooley. He was discharged on 3rd September
Click here to receive your free copy of Premier Christianity magazine.