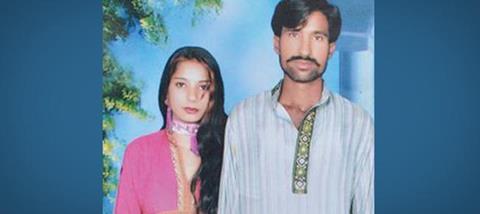 EA's director of advocacy, Dave Landrum, said: 'This barbaric act represents the latest in a long line of brutal acts of religious intolerance against Christians in a country which is set to receive more than £400m in aid from Christian taxpayers in the UK.'
Dr Landrum said Pakistan's Commonwealth membership – which stipulates the need to respect diversity– should be reconsidered because of its failure to reform blasphemy laws. Another Pakistani Christian couple, Shafqat Emmanuel and
Shagufta Kausar, were sentenced to death in April for sending a local imam in Gojra a text message that allegedly insulted the prophet Mohammed.
Meanwhile, the Pakistani court that upheld mother-of-five Asia Bibi's death sentence in October has called for legislation that will make it more difficult to secure blasphemy convictions. Judges Muhammad Anwar-ul-Haq and Syed Shahbaz Ali Rizvi claim that a weak defence case and a lack of enforceable guidelines gave them no choice but to uphold the sentence.
Manoj Raithatha, head of the EA's South Asian Forum, is urging Christians to sign a petition from the British Pakistani Christian Association urging Western governments to force Pakistan to address its 'biased blasphemy law'.
Click here to receive your free copy of Premier Christianity magazine.