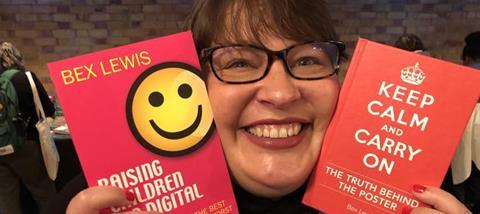 In her own words, Dr Bex Lewis was a 'life explorer'. A fiercely intelligent woman with a PhD that focused on second world war propaganda posters, and most famously the Keep Calm and Carry On poster; she always held her intellect very lightly and never made anyone feel inferior. Bex had a love for learning and a love for life. She was a keen traveller spending many years as a leader on Oak Hall holidays around the world.
I first made friends with Bex on Twitter around 2008-9 when social media was on the rise. Both of us had seen the potential of social media for good in the Christian world and as our paths crossed we became digital disciples together through the Big Bible project – an online community Bex ran with CODEC at Durham University. It was some years before we finally met face to face, but it was a seamless encounter! What we experienced of each other online was no different from how we were 'in real life' – a term we both disliked!
Bex was incredibly open, always willing to make herself vulnerable in order to help others. She became well known for running 'social media for the scared' sessions for the Church of England and introduced many Christian leaders to the delights and opportunities of social media in mission and ministry.
In 2014 she published her book Raising Children in a Digital Age and appeared on the BBC's One show and the Steve Wright show on BBC Radio 2. Bex was always positive about the internet and the good it could do, while maintaining a healthy approach which ensured safety. She often used the metaphor of the positive effects of swimming for children, but how you wouldn't just drop a child in the deep end and make them fend for themselves.
Her openness and vulnerability came to the fore when she was diagnosed with Breast Cancer in 2017, which later developed into Metastatic Breast Cancer. Bex did academic research into the use of social media by people living with cancer, she wrote a moving Lent Talk which was broadcast on Radio 4 in 2019 and recorded many of her experiences, the good, the bad, and the ugly, using the hashtag #busylivingwithmets. She even coined a new hashtag for when she was in various waiting rooms for appointments for her treatment – posting pictures of her feet (and she had an amazingly eclectic collection of shoes) with #waitingroomfeet.
Heartbroken that my best online friend @drbexl sadly died today. Bex truly lived life to the full (epitomising Jesus' words in John 10:10) and had a massive positive impact on so many people including me. #bemoreBex - can we get this trending for the social media queen? pic.twitter.com/96FGe3ZH5k

— Bryony Taylor (@vahva) February 18, 2021
In writing this I have barely scratched the surface in terms of all the facets of Bex's full life. She epitomised the words of Jesus in John 10:10 "I have come that they may have life, and have it to the full."
Bex had a tremendously positive impact on me and on so many others – she was the queen of social media in the Christian world – chances are that if you're a Christian on social media, you will have come across Bex. Her legacy will be huge, I only hope that we can all #bemorebex – that we live life to the full, share our vulnerability and put our faith in Jesus just like Bex did. Rest in peace my dear friend.
Rev Bryony Taylor is a priest in the Church of England and works as Rector of Barlborough and Clowne in Derby Diocese. Follow her on Twitter @vahva