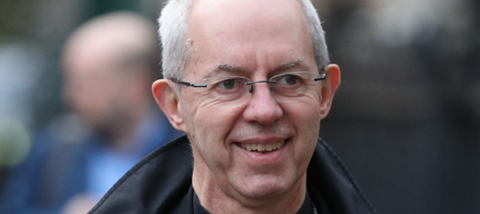 I'm glad I'm not the prime minister.
I wonder if you've ever had that thought? Not about me, but about yourself. There are just some jobs where, regardless of who does them, you won't get things right. That's true of every prime minister we have ever had. Each one, whatever party, has been criticised in our papers, pubs, and probably over every dinner table in the land. It's one of those jobs that you just can't get right.
I think the same is true for our Archbishop.
I'm not actually sure why Justin Welby's planned sabbatical is such big news. After all, this is something that is available to every ordained member of the Church of England. Sadly, much of the press has criticised the decision. The Guardian published a column entitled 'Dear archbishop, now is not the time to take a sabbatical' while The Telegraph declared, 'The dying Church of England cannot afford a sabbatical'.
I attempted a Sabbatical earlier this year. I knew that if I was going to lead well in my last 7-8 years of ministry I needed to stop and reflect. Mine unfortunately ended early, due to the arrival of Covid-19. However, I fully intend to take my sabbatical in the coming couple of years. Why?
To take a sabbatical is to follow in the footsteps of Jesus. Before major moments in his life, Jesus retreated, whether that was going up a mountain or spending time in the desert.
A sabbatical is a great way to reflect back. Have you ever had one of those two week summer breaks where it's taken you a week and a half just to slow down? If we want to reflect we need space, and a sabbatical is a great way of getting that space. No one is perfect, we all make mistakes and we all get things right. However, if we don't take time out to reflect on our ministry and actions we have taken, we will never learn from them. Archbishop Justin has been carrying a church of 70 million people worldwide and holding together many differing opinions about the future. He has some huge challenges ahead. If I am honest, I think to not take time out would actually indicate a lack of wisdom.
I only lead a small family of churches, yet I feel as though I am constantly giving out. We give out pastorally, emotionally and psychologically every week. We live on top of the church, and our homes are often seen as extensions of the church. I happen to have visited Lambeth Palace on a number of occasions and it is a buzzing place with a wonderful team of people giving help in leading the church. But in order to have spiritual refreshment, the Archbishop will have to go elsewhere. A key part of a sabbatical is moving away from the place where we serve to a new place where can gain new perspective and be quiet without our regular distractions. Mental and emotional refreshment is important, and for our Archbishop to have time to read and think as well as to pray not only does him good but will help us all.
A sabbatical is also a way of finding new vision and new direction. For me, this was about wanting to give my best to the church family that I am honoured to serve, rather than giving them my exhausted self, which is of far less value. Archbishop Justin is called to comment on political and social changes in our nation and beyond, as well as seeking to give a spiritual lead. I, for one, thank God that he has to wisdom, like Jesus, to go climb a mountain and hear the voice of his Heavenly Father. I pray he enjoys his sabbatical, with a peaceful heart and that he finds just what he is looking for.
Mark Melluish is the vicar of St Paul's Ealing, St John's Ealing and St Mellitus Hanwell
Premier Christianity is committed to publishing a variety of opinion pieces from across the UK Church. The views expressed here do not necessarily represent those of the publisher