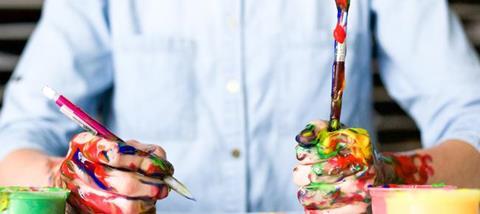 There seems to be a gulf between those who would say they are creative and those who feel they are most definitely not.
But what if I were to say to you that we are all born creative? (And when I say creative, I mean in all its different forms: a beautiful meal, a business strategy, a painting or making a room laugh, to name just a few.)
I believe creativity is in our DNA. We are born of God, so how can it not be? The seed of it is there within each of us and it is down to us to nourish it.
Think of your creativity as an oak sapling. It has the potential to become a mighty tree, but in its youth is still extremely vulnerable.
We can compare our creative pursuits to the parable of the sower; there may be good intentions but often our projects don't get anywhere. Sometimes our ideas fade to nothing because we are too busy or too distracted to see them through. Sometimes we rush creations, and because the roots aren't deep, the work feels rushed or lacks authenticity. Other times, discouragements may come and choke an idea before it has time to thrive. But the seed that falls on good soil, who knows what good may come of it?
And this is my conviction, that if the children of God know who they were born to be, their creations would carry a fresh power to tell of the goodness of God. I'm not saying that your art must explicitly proclaim the gospel but art that has integrity; that is true to itself and to you is a powerful expression of the glory of God.
Psalm 19:1 says: "The heavens proclaim the glory of God", and our art does too. A poem that speaks wonder, a story that tells of love, a painting that shows the colours of Autumn, a piece of music that ushers in peace... it all points to him.
So how can we cultivate our creativity? Here are a few ways:
Carve out creative time
Allow yourself the time to create, to doodle, to do nothing. (It is okay to let other things go to achieve this: say no to a night out, step down from a committee, get up earlier. There is enough time, we just have to work out what to say no to!)
Find your voice
It will take a while for your true voice to emerge, one that isn't a copy of someone else's, but instead is your message, your authentic output to the world. Don't stop experimenting/searching/practising until you find it.
Protect your dreams
Let your projects grow in secret until they are well rooted. I still remember being laughed at when I told someone I was writing a novel. Criticism can kill off creative saplings! Surround yourself instead with people who will support your creative ventures.
Take one step today – no matter how small
Is there an area that God is nudging you in? Listen for a while, and then trust yourself and your voice, believing in the treasure that God has set within you, because you are the only one who can bring your message into the world. Let the seed that he has planted rest for a while, then give it space and let it grow.
Elisabeth Pike is a blogger and writer. Her book about journeying with creativity and faith is out now: Circles: Nurture and Grow your Creative Gift (Onwards and Upwards). Find her at elisabethpike.tumblr.com
Enjoyed that? Get more articles covering news, culture, faith and apologetics in every print issue of Premier Christianity magazine. Subscribe now
Premier Christianity is committed to publishing a variety of opinion pieces from across the UK Church. The views expressed on our blog do not necessarily represent those of the publisher.