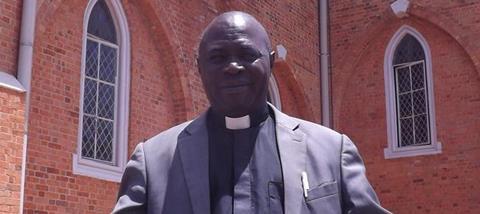 You don't expect to hear the word "condom" in church. But Christians in Uganda are getting used to it.
The "condom gospel" is part of a church-led effort to introduce Ugandans to manageable, healthier families – and break centuries of unbridled reproductive habits that some believe have contributed to poverty, hunger and unhappy families.
In villages across the nation, the conservative Anglican Church of Uganda is spreading the message of family planning with evangelistic fervor. In dozens of churches deep in the nation's rural heartland, you're as likely to hear about condoms as church creed.
Trained by the faith-based Uganda Protestant Medical Bureau (UPMB), church leaders are taking a stand for birth control and tackling ingrained myths surrounding contraception.
"The church is totally pro-family and pro-children," explains Dr. Tonny Tumwesigye, UPMB's executive director, who heads a network of nearly 300 church-based health clinics across Uganda. "But our people need to know that smaller families can be part of God's plan – that it's okay to choose to have two or three kids."
Traditionally, born-again Ugandan believers have accepted the belief that family planning is unnecessary because God simply gives as many children as he decides. "A bundle of kids is a blessing from heaven" or so the mantra goes.
Combined with the tribal practice of having multiple wives or concubines, it's not unusual for one man to produce upwards of 30 children. In the past, few men or women have paid much attention to contraceptive methods. And negative myths "spread like wildfire," according to UPMB's staff, hampering their efforts to introduce birth control.
"I've heard so many myths," Tumwesigye says, "like birth control causes impotence in men, infertility in women, loss of libido, abortion… it's no surprise that people are confused. Condoms are often viewed as something that only prostitutes use.
"We're teaching church leaders that birth control is not something to be feared. It leads to responsible parenting and quality of life, where parents are able to choose how many children they want to produce, and are financially able to house, feed and clothe their children, as well as pay for schooling. And this, in turn, creates healthier, stronger churches."
Irene Nakiriggya, a UPMB reproductive health trainer, knows what it's like to grow up in a family the size of two soccer teams. Along with her siblings, she helped harvest coffee on the family farm. Helping to grow crops is a common occupation for children in Uganda, and this homegrown workforce encourages parents to have lots of kids. Nakiriggya's childhood experience now propels her to spread the family planning message throughout Uganda, mobilizing and training local church leaders. She even shows other women her upper-arm contraceptive implant, dispelling myths that such devices cause health problems and destroy sex drive. She has three children and plans to have one more, she tells women's groups in the churches. That's a shocker in a nation where, only a decade ago, women averaged eight children.
Meanwhile, father-of-five Phillip Ssekimpi tells men in his 1,000-member church that they don't have to produce a classroom full of kids to prove their manhood. "The moment I mention the word 'condom' they all pay attention," he says, "and they're learning they need to be responsible, too."
In the rural Namutumba district, Archdeacon Stephen Kaziro (pictured, above) oversees dozens of village churches, including several that also act as local health clinics. His goal is to promote the biblical model of marriage and family that, despite the large number of churchgoers, is often lacking in Uganda. Recently, 30 couples were married in a single wedding ceremony, and received family planning coaching.
"Our love for children and families drives us to advance the cause of marriage and family planning," he says, "and we're already seeing more couples that are happier and healthier in their relationship and their home."
Julian Lukins is a freelance writer, former daily newspaper reporter in the UK, and has traveled extensively to report on health issues in developing nations, including Uganda where he lived for 18 months. He is a former staff writer with World Relief, the humanitarian arm of the National Association of Evangelicals (NAE)
Enjoyed that? Get more articles covering news, culture, faith and apologetics in every print issue of Premier Christianity magazine. Subscribe now