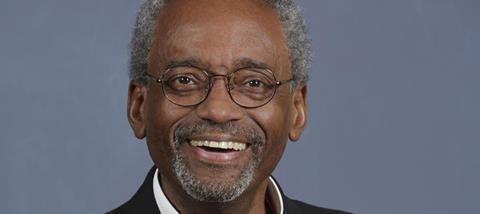 Bishop Michael Curry, the first African-American Presiding Bishop of the Episcopal Church of the USA, will give the address during the wedding of Prince Harry to Meghan Markle this weekend.
The invitation reflects the influence of a biracial American marrying into the royal family, but for those living in the UK, his might be an unfamiliar name.
Curry was named Presiding Bishop in 2015, having previously been a bishop in North Carolina, and before that a parish priest. He hails from Chicago, with ancestors who were slaves, and is the son of an Episcopal priest who was a civil-rights activist who campaigned to bring to an end segregated schools in Buffalo, New York.
Although he's not yet met Prince Harry or Meghan Markle, he was chosen to preach at their wedding after their discussions with Archbishop Justin Welby, who tweeted on Saturday, "I'm thrilled that Prince Harry and Meghan Markle have asked Bishop Michael Curry to preach at their wedding. @PB_Curry is a brilliant pastor, stunning preacher and someone with a great gift for sharing the good news of Jesus Christ."
A spokeswoman for the Episcopal Church, Neva Rae Fox, told the Washington Post, "It was my understanding that given the fact that he was the first African American [presiding] bishop and is a wonderful preacher and speaker, it would be appropriate for him to be invited to speak." Indeed, Bishop Curry explodes with warmth and an infectious laugh from the pulpit.
Heading up a church that is known for its decline in recent years – it has suffered a 20 per cent drop since 2003 – Curry has initiated a programme of evangelisation, calling himself the Chief Evangelism Officer and hiring a team of seven to focus on this area. He's committed to a series of revivals over the next years.
Bishop Curry explodes with warmth and an infectious laugh from the pulpit
But not all Anglicans in the States warm to Curry or to the Episcopal Church, especially those who attend the many Anglican churches that split from the Episcopal Church over issues of the authority of Scripture and issues of sexuality. For them, hearing him called him the new Billy Graham makes them recoil. As one Anglican commentator notes, Curry may call for revival, but he doesn't preach holiness: "a word not to be found on the lips of Curry."
Indeed, an overwhelming majority of Anglicans in the Global South believe that Bishop Curry and the Episcopal Church's celebration of same sex marriages runs contrary to the gospel. They've been accused of promoting false teachings which contradict the Bible and even offering a false gospel, so it seems likely that Archbishop Welby's warm endorsement of Bishop Curry will further increase the tensions in the worldwide Anglican Communion after the fractures of the last 15 years.
But perhaps having an African-American preach a sermon on love at a royal wedding will dissipate some of the racial abuse Meghan Markle has experienced. Kensington Palace responded to the attacks with a statement in late 2016 asking for the press to "pause and reflect before any further damage is done." Maybe Bishop Michael Curry will stand against these assaults through his own flavour of warmth and self-deprecating humour. He was one of the first US church leaders to condemn President Donald Trump's America First policies, and he organised a march on Washington on the issue.
The bishop is reported to being thrilled to be involved in the ceremony in Windsor. He said, "The love that has brought and will bind Prince Harry and Ms Meghan Markle together has its source and origin in God, and is the key to life and happiness. And so we celebrate and pray for them today."
Amy Boucher Pye is the author of the award-winning Finding Myself in Britain: Our Search for Faith, Home & True Identity, a through-the-year look at life in Britain from an American's point of view. Find her at amyboucherpye.com
Click here for a free sample copy of Premier Christianity magazine