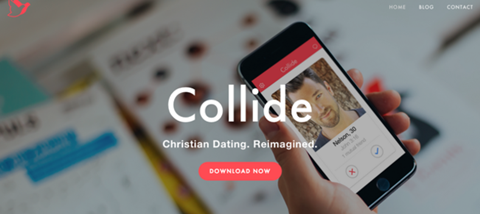 I'll be honest with you, folks. Sticking to your relational guns as a 23-year-old Christian ain't easy. You go through cycles of being genuinely content, and remarkably frustrated. In between, you try to take the same practical steps you would for any other significant change in your life, like finding a new job, or place to live. That is to say, you go online.
Enter Collide. If you've ever used the dating app Tinder, you've got the gist (and probably the carpal tunnel syndrome from repetitive swiping) already. For those who have no idea what I'm talking about, here's what happens: you download the app onto your smartphone or tablet (too new age for a desktop, I'm afraid) for free, put up three pictures and a 160 character description, put in your age, gender and distance preferences (like junk mail, it already knows where you live), and you're ready to go.
You'll see various pictures of people that fit your criteria. You can press them to see more of their pictures and profile, as well some – rather odd - spiritual titbits: their church denomination (makes sense), their favourite Bible verse (bit random) and how often they go to church and bible study (#judgemental). These are made all the more ironic when you realise you have to pay to see them - £3.99, to be exact. Clearly the developers have our best spiritual interests at heart.
When you've you made an informed decision (if one can call it that in such a scenario), you swipe the picture right if you're interested, and left if you want to move on to the next person. If two people swipe right on each other they can chat through the app, which means there's at least some mutual interest before conversations begin. The pros of Collide? Fast, accessible, and ultimately, another opportunity to meet someone you could do incredible things for the Kingdom of God with.
But boy are there drawbacks. Firstly, Collide is - perhaps inevitably given its recent release - still pretty buggy. Pictures can't always be viewed properly, and the app crashes a lot. Secondly, one could argue there's something inherently un-spiritual with the format of Collide. A lot of the time it can boil down solely to how someone looks, especially given the tiny word limit for profiles. One only has to read Proverbs 31 to know that's a bad road to go down. The biggest problem of all, though, is that there really isn't anyone on there. I put in generous preferences before starting: 20-26 years old in a 60 mile radius. In the secular world of Tinder, you'd be laughing with those criteria. I found less than 20 people on Collide.
Now, this isn't wholly their fault; they're a new product breaking into a new market: app-specific Christian dating. But there are certainly things they can do to make it better. Fix the image bugs and profile lengths, so we can actually tell whether we fancy someone or not. Take out all the in-app costs and charge a small fee to download. Allowing users access to more pictures and information will make the app better quality, and most likely improve the clientele (if I see another unfinished profile again, I'll scream).
And whatever money it has left from the subscription fee, pump it into marketing. It is people, and their ability to interact with people, that make a dating site. If Christian Connection, a well-known dating site, wants a stock tip, it's this: buy Collide while it's cheap and desolate. With a bit of synergy and a few more years, it could be teeming with people. But for now, Collide is a bit like my current love life. Not there - yet.
Read our feature on online dating, published in our latest issue, here.
For your free sample copy of Premier Christianity magazine click here.