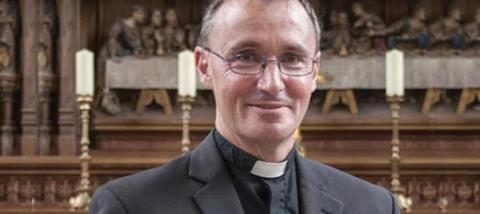 Nicholas Chamberlain said he is in a long-term relationship with his male partner but is following Church rules as they do not sleep together.
The Church currently forbids marriage between same-sex partners and will not carry out gay marriage services. Bishop Nicholas made the announcement about his sexuality to The Guardian after an unnamed Sunday paper threatened to publish the story.
"It was not my decision to make a big thing about coming out," he said. Conservative Anglican group GAFCON said the decision to appoint the bishop, despite knowing he was in a same-sex relationship, had been a "major error".
The group, which says it is "standing together to retain and restore the Bible to the heart of the Anglican Communion", has welcomed plans for a split in the Church of England if it becomes more liberal on sexuality.
According to The Telegraph, almost a dozen congregations in the Home Counties have met to discuss the possible formation of a new Church within the Anglican Communion, which could lead to a "shadow synod".
A Church of England spokesman said: "The Church has said for some time that it would be unjust to exclude from consideration for the episcopate anyone seeking to live fully in conformity with the Church's teaching on sexual ethics or other areas of personal life and discipline.
"Whilst Bishop Nick's appointment is notable in the gifts and talents that he brings to the episcopate, it is wholly consistent and unexceptional in other regards given the testing of that call by those responsible for the selection process in each case."
The Bishop of Grantham's announcement came just days before more than a dozen clergy revealed in a letter to The Sunday Times that they had defied teaching by entering into gay marriages. The letter was signed by 14 gay and lesbian clergy, along with other members of the laity, calling for "diversity" of beliefs within the Church.
The group of married gay clergy and lay members called for individual parishes to have the freedom to choose whether to celebrate same-sex marriages and said it was "time to respect that a diversity of theology within the Church now exists and that there is more than one understanding of what a faithful Christian may believe on these issues".
The signatories, who include Rev Andrew Foreshew-Cain, the first working CofE vicar to marry his same-sex partner in June 2014, called on the College of Bishops to find a way forward that offers "greater inclusion", saying: "We will always want to see the full acceptance of lesbian, gay, bisexual, transgender and intersex people in the Church."
In response to the letter, a Church of England spokesman said: "Following the shared conversations process of the past two years, which directly involved thousands of members of the Church, the bishops will have an opportunity to discuss the next steps over the coming months."