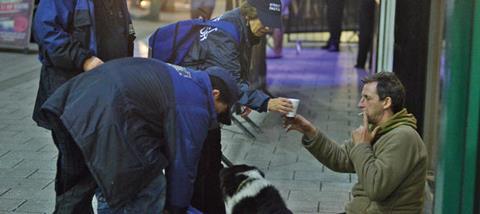 The network says faith groups are 'uniquely positioned to support those in most need on multiple levels'.
Faith groups were praised in the report for their debt advice, coaching people back into work, offering emergency food parcels and providing safe places to build friendship.
The audit found 'faith driven individuals' are 'stepping into the gap' created by budget cuts and rising housing costs.
Although the network surveyed 2,110 faith groups, 93.8% of faith groups who responded to the survey were Christian.
Matt Bird, founder of the network, said, 'At Cinnamon Network our vision is to see local churches and other faith groups more empowered and encouraged to take up their place as they serve at the heart of their community. We also want to see their work externally recognised and properly resourced as part of the overall picture of provision in any given community.'
Cinnamon Network says each faith group runs on average eight social action projects, which support 1,656 beneficiaries. Statistics show the average faith group is run by four paid staff and 66 volunteers.
By extrapolating the results of their survey of just over 2,000 groups to include all 60,000 faith groups in the UK, the Cinnamon Network estimates that the faith sector supports 47 million people through over 200,000 social action projects, every year.
The Faith Action Audit was launched in Westminster by the Archbishop of Canterbury, Justin Welby.
The Archbishop said the audit 'shows the breadth of commitment across the country, the depth of commitment, and above all the strength of experience and good practice.'
He said, 'I'm reminded that the work of the Church is emphatically not done by archbishops. It's done by every local church community. The work of faith groups is not done by the folk who appear on TV. It's done by the local people – and they do it in the most extraordinary way.
'The faith communities in this country have risen to the challenge in the last seven or eight years, as they had done before, and will continue to do, whatever happens in the future with the economy – because there will always be people in need, there will always be people who need not just provision but need provision wrapped up in love. And it's when they get that, that human dignity is preserved and humanity is lifted.'
A panel discussion followed the archbishop's speech. Contributors included Lord Tariq Ahmad, home office minister for countering extremism and Pastor Agu Irukwu, chair of the Redeemed Christian Church of God.