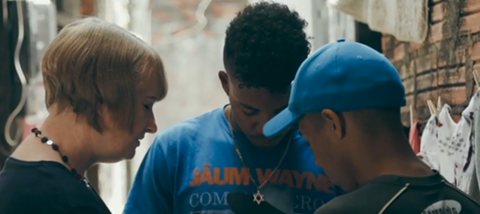 What do you do when God calls you out of your comfort zone to live a life of mission? Could you give everything up to answer the call?
All over the world there are many who have done just that – following faithfully where God is leading them, trusting that he will provide what they need. These full-time Christian workers (or self-supported Christian workers) cover the costs of living by leaning on their support network of friends and family.
Every single one is making a difference, using their gifts to bring more people to Christ through the power of the gospel.
However, as mission workers live out their calling to serve others, it often comes at a cost to themselves. Christian charity Stewardship revealed that 99 per cent of their self-supported Christian workers live below their recommended living costs. They struggle to cover the day-to-day living costs, let alone those unexpected emergencies like cars breaking down or sudden medical bills.
Many of these inspiring individuals believe finance shouldn't get in the way of their calling – so they don't let it.
Cally Magalhaes was called to leave the comfort of her home in the UK and move into one of the poorest communities in Sao Paolo, Brazil. She lives out the gospel through prison rehabilitation groups, showing those who have lost hope that there is another way to live. It's life-changing, transformative work.
Cally relies on donations to help her continue. It's not uncommon for her to deliver food packages to those who need it and then return home with barely enough for herself. However, for her, it's a privilege: "People are so open to know about Jesus. Some of the poorest people in the world live here and it's amazing to be able to help them. You're just never sure what's going to happen next."
Christian workers like Cally shouldn't be forgotten. Away from the spotlight, they carry out the crucial work that sees more of God's kingdom on earth.
That's why Stewardship are hoping to bless them this Christmas. Stewardship supports 2,500 full-time Christian workers, helping them to broaden their support network through training and equipping with budgeting skills to cover what they need. The funds paid by Stewardship cover everything from travel expenses, to clothes and food for their families. It also means they can consider long-term needs such as saving for their pensions after a lifetime of ministry.
As living costs increase during the festive period, together we can make a difference to missionaries who find this time of year even more difficult.
You can support dedicated Christian workers like Cally by giving a gift to the Mission: Christmas Appeal 2019. We can cover the increase of living costs and ease their financial burdens by raising enough to give mission workers supported by Stewardship a gift of around £100 this Christmas.
Dan Preston is a digital consultant for Stewardship. He lives in Eastbourne with his family and helps Christian charities including Tearfund and Spring Harvest get the most out of digital and social media.
Enjoyed that? Get more articles covering news, culture, faith and apologetics in every print issue of Premier Christianity magazine. Subscribe now