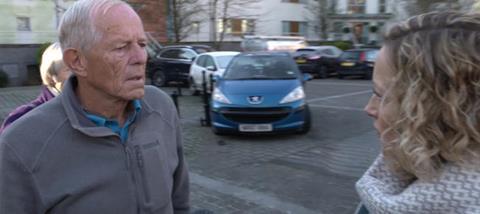 The accusations relate to John Smyth QC, a former leader at the Iwerne camp, which had close links with the Church of England and where Justin Welby worked as a dormitory officer in the late 1970s. Smyth (pictured, above) was the subject of a six-month-long investigation by Channel 4 News, which uncovered multiple claims of violent physical abuse said to have taken place inside Smyth's garden shed. It's alleged that Smyth would recite passages of the Bible to the teenage boys, before beating them with a cane.
It's alleged some of the boys were beaten so hard that they had to wear adult nappies to allow the wounds to heal.
Although he worked alongside Smyth at Iwerne's holiday camp, The Most Rev Justin Welby insisted he was "completely unaware" of the allegations and has issued an "unreserved and unequivocal" apology to the victims.
The Bishop of Guildford, Andrew Watson, has revealed he was one of the boys targeted in what he called a "violent, excruciating and shocking" attack.
In a statement he said, "My profoundest prayers are with all those affected by this, and my heartfelt desire is that lessons might be learnt so this never happens again." Smyth later moved to Zimbabwe to run other holiday camps at which a number of boys have said they were beaten and forced to shower naked with the barrister.
Smyth was also charged with culpable homicide and assault after a 16-year-old boy was found dead at the bottom of a swimming pool. He was not convicted and moved to Cape Town, where he now resides.
Smyth had run the Justice Alliance, a public morality campaign group in South Africa. But after the story broke, the organisation said Smyth has been told to step down. Board member Stephen van Rhyn who also pastors a New Frontiers church in Cape Town said: "We are so shocked and many of us believe John should go to the UK to answer any questions and face any charges which may be there."
There was controversy after Bishop Alan Wilson appeared to link Smyth's behaviour with what he called "violent theology". In an interview on Channel 4 News, Bishop Wilson appeared to take aim at the theology of penal substitutionary atonement, arguing there is "a note of brutality and cruelty in these kinds of theologies… which would blind a good and decent person to what was going on".
However, Bishop Andrew Watson said: "Abusers espouse all theologies and none; and absolutely nothing that happened in the Smyth shed was the natural fruit of any Christian theology that I've come across before or since. It was abuse perpetrated by a misguided, manipulative and dangerous man, tragically playing on the longing of his young victims to live godly lives."