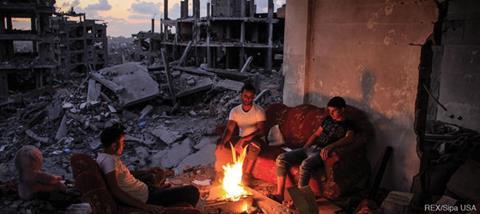 An appeal run by the Disasters Emergency Committee (DEC), which coordinates giving to charities such as Christian Aid, CAFOD, Tearfund and World Vision, has raised more than £11m.
The only Christian hospital in Gaza, founded by the Church Mission Society in 1882, is providing healthcare despite having been the victim of airstrikes itself. The Al Ahli Arab Hospital in Gaza City has been serving the wounded with critical medical care since the start of Israel's Operation Protective Edge on 8th July However, it is experiencing shortages in medicine, fuel for generators and food for patients as well as for many in the community who seek its help.
Anglican bishop in Jerusalem, Rev Suheil Dawani, said: 'The impact of the air strikes has caused structural damages to the [Al Ahli] hospital, including its ventilation system in the operating theatre and the emergency room.'
Embrace the Middle East has also sent funds to its partners in the region. Chief executive Jeremy Moodey said: 'The Christian community is tiny – less than 0.1% of the population – yet its vibrant social witness through schools, hospitals, clinics and other projects means that it punches way above its weight.'
The conflict has highlighted divisions between UK Christians on the ethics of Israel's response to Hamas attacks, which has so far seen more than 2,100 Palestinians killed, including an estimated 500 children. Around 70 Israelis have lost their lives, almost all of whom were soldiers.
Reacting to recent events, summer conference Momentum, organised by Soul Survivor, cancelled exhibition space previously booked by Christian Friends of Israel UK (CFIUK).
An email from Momentum's organisers said that it did not want 'to give an impression that we are on a particular side' or 'stir up any controversy among delegates'. CFIUK said it was 'shocked and saddened' by the decision.