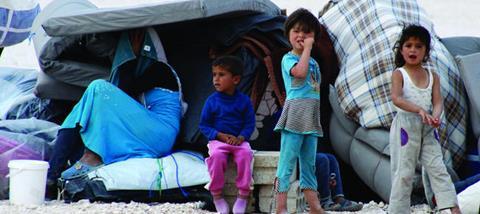 According to the latest UN figures, 80,000 Syrians have died in the civil war since it started in March 2011. There are approximately 1.5 million Syrian refugees in neighbouring countries and a further 4 million internally displaced persons inside Syria itself.
Embrace, the UK's largest Christian development agency focused solely on the Middle East, has launched an appeal to support local Christian-led projects working with refugees in Lebanon and Syria.
Embrace also condemned the decision by European Union foreign ministers, led by the UK and France, to lift the EU ban on the supply of weapons to the Syrian opposition. It called on the international community to 'break this spiral of death and destruction' in Syria and to 'seek a political solution to the crisis, rather than a military one'
Jeremy Moodey, the chief executive officer of Embrace, urged the UK government 'to work for peace, not yet more bloodshed', and pointed to Russia responding to the EU decision by announcing an increase in arms supplies to the Syrian regime
He said: 'The international community has shamefully failed the Syrian people with its toothless diplomacy, and now it wants to compound that failure by supplying yet more instruments of death. As Christians we must urge our government to work for peace, not yet more bloodshed.'
Christian Aid is working with partners in Lebanon and Iraq to provide humanitarian support to those most in need. Its ACT Alliance sister agency, International Orthodox Christian Charities (IOCC), is also providing support to people in desperate situations inside Syria itself.
A spokesman said, 'This year has been full of turmoil, unrest and despair for many civilians across the Middle East region. We are deeply concerned about the lives of civilians caught up in conflicts.'
World Vision has launched an appeal to help feed, clothe and shelter Syrian children whose families have fled to Lebanon. The charity is providing food, blankets, warm clothes, stoves and fuel and is making plans to expand its relief work into Jordan.
Tearfund has also launched a crisis appeal and written a special prayer that can be used as part of a candlelit vigil:
Almighty God
Today we remember before you the people of Syria.
Our hearts ache for their pain and suffering.
Lord we ask for your comfort to be made known.
Loving Father We pray for all who are responding in love in Syria and in the surrounding countries.
Bless them as they work day and night to help those in need.
Lord we ask for your mercy to be made known.
Prince of Peace We ask you to raise up peacemakers Grant discernment and wisdom to leaders and others with influence, that a road of peace may be found.
Please help us to be faithful in your ministry.
Lord we ask for your peace to be made known.
Amen
Embraceme.org - Christianaid.org.uk - Tearfund.org - Worldvision.org.uk