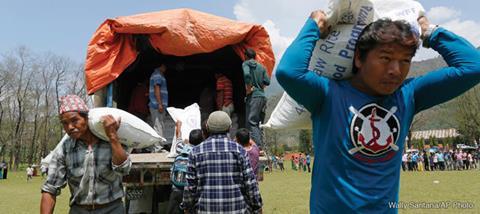 More than 6,000 died, and more than 10,000 were injured in the 7.8 magnitude tremor that hit close to the capital Kathmandu. Nine out of ten Nepalese troops were deployed in the subsequent search and rescue operation.
Christian Aid launched an urgent appeal for support, reporting that rural areas were hit particularly hard by the earthquake.
'Our partners are en route to establish where need is greatest, so that we can respond quickly and effectively,' the charity said.
Christian charity World Vision also launched an appeal and is urging prayers. Its country director for Nepal, Liz Satow, said, 'Buildings and walls across Kathmandu have collapsed, although it is hard to tell how serious and extensive the damage is.'
Photo: Volunteers carry bags of food supply from a cargo truck to an aid helicopter in Majuwa village, near the epicenter of massive earthquake, in the Gorkha District of Nepal