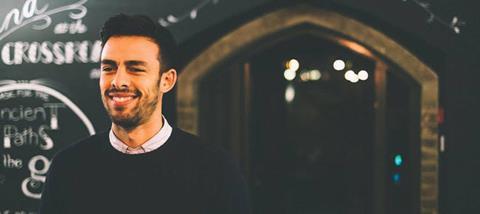 The biblical Caleb was bold, brave, faithful, courageous, fearless and wholehearted. So too was Caleb Meakins.
He had a wonderful sense of humour, was always kind and prioritised family: biological and spiritual.
I got to know Caleb seven years ago when he asked me to help set-up Shift as a registered charity. Working with him was a privilege. Yet it was always Caleb's character more than his vision, passion or achievements which struck me.
We are shocked and devastated by his death on Friday, following a car accident on the way to the airport a few days before. Amidst the grief, social media has been awash with tributes to a man of great faith. Pete Hughes, Lead Pastor of KXC, said Caleb was "one of the most gifted young leaders I've ever encountered, but what stood out was his extraordinary kindness and gentleness." Rachel Gardner, founder of Romance Academy, commented that Caleb was "utterly devoted to giving it all for the sake of others." Rower Julia Immonen added his "love for Jesus was infectious".
On hearing the news of his accident, a prayer movement began, centred around a WhatsApp group that reached capacity on day one. Within days 930 friends had between them given £50k towards his care.
On Monday over 1000 people attended his funeral at the International Evangelical Church in Addis, of which Caleb was an elder. The variety of grievers showed the range of people Caleb connected with: friends, staff, civil servants and entrepreneurs. The service was streamed live to many more gathering in homes to watch together on Instagram.
As a child Caleb had to come to terms with the loss of his father who was killed in a hijacked plane that crashed in Ethiopia. A surviving air hostess tells of how Caleb's father led her to faith in Jesus Christ moments before the crash.
Caleb inherited a legacy of faith from his parents. Aged only eight when he lost his father, he took seriously his role to love and protect his little sisters and, in due course, became a spiritual father to many.
Caleb went on to graduate with a Masters in Civil Engineering from Loughborough, and he was named 2013 Graduate of the Year for his project My40Days - a social venture aimed at inspiring people to overcome the fear of failure. He took on 40 challenges set by the public, including giving an unprepared lecture at King's College London and learning an Ethiopian dance, Eskista, known for intense shoulder movements, which received 1.8 million views on YouTube.
Caleb also co-founded Shift, which began as a UK Christian student movement. With a summer event for 350 young adults and a New Year's Eve event for 500, Shift grew to inspire a new generation to put their faith in Jesus and shape society, whatever their sphere of influence.
Caleb's entrepreneurial spirit led him to start numerous social ventures. His faith that God was renewing all things gave him a heart for entrepreneurship in Ethiopia which would bring transformation. Since returning to Addis four years ago, he co-founded Bake & Brew and set up Mella ('solution' in Amharic) which encourages entrepreneurship in Ethiopia.
Caleb couldn't help but share his passion whether over a coffee or on the big stage. He once gave a TEDx talk on facing the fear of failure with 87k views, and had 60k subscribers to his YouTube channel Ethiopia In Me, which sought to encourage Ethiopians to return to their country and learn their language and history.
Caleb became a role model for young Ethiopians, promoting the future of Africa and founding the Ethiopian Entrepreneurs Association.
He was many things to many people: in my family playing the role of Godfather to our two-year-old with huge love and commitment. It wasn't just projects that interested him, but people.
Caleb is now with Christ and his legacy lives on in his family, friends and all the young adults he has inspired. His mother Ruth, and sisters Lydia and Abigail are exceptional women of faith of whom Caleb was immensely proud.
Caleb once said: "At the end of our days, let's say at least I tried to make a difference" Well, Caleb, you certainly did.
The Revd Dr Keir Shreeves is the former Chair of Shift