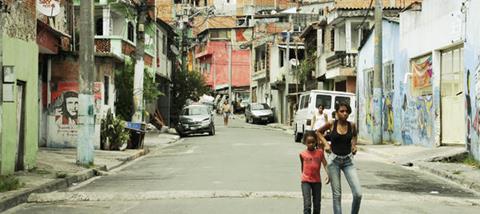 All eyes are on Brazil this June as both football stars and fans descend for the FIFA World Cup. Just next door to the purpose-built stadia are slums that are home to some of the 250,000 children caught in Brazil's sex trade. And with the crowds comes a likely increase in the sex tourism that so often attends international sporting events. A life on the streets and educational disadvantage are just some of the other problems facing Brazil's poorest children.
Darkness in daylight
Meninadança
Wearing a skimpy dress which clung to her tiny frame, the young girl - who looked no older than 12 – seemed awkward and inexperienced as she touted for sex tourists near the beach in Fortaleza, Brazil. It wasn't long, though, before a man arrived, negotiated a price, and took her away.
The scene, which I witnessed just a few weeks ago, left me shocked; not just because of how tragic it seemed, but also because of where she was standing – right outside the front door of the tourist police station.
In many ways, this image sums up Brazil's child prostitution problem, which many are warning will explode during the World Cup. Despite fine words about its tough stance on foreign sex offenders, child prostitution is so normal that few Brazilians take a second glance – not even the policemen who are supposed to be protecting children from abuse. The child prostitution epidemic is already believed to involve more than 250,000 young people.
Over the past couple of months I've travelled around Brazil, looking at how the South American powerhouse's hosting of the FIFA World Cup might exacerbate the already overwhelming problem of child prostitution in the country. And I've been increasingly alarmed by what I've seen and heard.
Even before an estimated 600,000 football fans arrive in Brazil for the tournament, which begins on 12th June, the World Cup has already created thousands of young victims. With 12 stadia being either built from scratch or renovated, as well as new roads, hotels and airports, child prostitution has proliferated around the construction sites. A recent survey of construction sites found that child prostitution was present at 97% of all World Cup works, with an astonishing 25% of labourers admitting to having bought sex from an underage girl.
I FOUND GIRLS AS YOUNG AS 11 BEING SOLD TO CONSTRUCTION WORKERS BUILDING THE NEW STADIUM
In São Paulo, which will stage the tournament's first game, I found girls as young as 11 being sold to construction workers building the new stadium where England play Uruguay on 16th June. Again, the grotesque trade was going on in broad daylight on roads close to the building site, in full view of regular police patrols. One of the girls, 14-year-old Poliana who lives in a slum next to the new £200m stadium, told how she sold her body to construction workers in their lunch breaks for just £2.60 a time.
'There are many who are younger than me, 11, 12,' she told me in an interview for the Sunday Mirror. 'When the World Cup begins there will be many more girls my age and younger. Everyone thinks they can make a lot of money from the foreigners coming here.'
There is also growing evidence that highly organised trafficking gangs, hoping to profit from lucrative foreign football fans, are recruiting young girls into the sex trade from other parts of Brazil, and even from abroad. One disturbing report by city councillors in São Paulo talked of 'busloads' of children arriving in the city from poor parts of the country after being snatched by traffickers. It also mentioned cases of underage girls arriving at its international airport from the Congo and Somalia, supposedly financed by the Russian mafia.
Earlier this year I travelled to Manaus, the Amazon city where England kick off their World Cup campaign against Italy on 14th June. Here too, sex gangs are gearing up for the tournament by bringing in child prostitutes, many kidnapped and held against their will.
In Iranduba, a poor town ten miles outside of Manaus, 20 teenage girls went missing in just one month, with most believed to have fallen victim to traffickers.
One 14-year-old girl told how she had been drugged and taken to a prostitution house in the centre of Manaus, from where she eventually managed to escape. 'There were lots of rooms and I saw other children, they were crying a lot,'
she said.
My charity, Meninadança, works with young victims of prostitution and trafficking living in remote towns along Brazil's longest motorway, the BR-116, described as the worst road in the world for child prostitution. A Brazilian government report found that along its 2,700 miles, there are at least 262 places where children are known to be sold for sex – or one, on average, every ten miles.
Every day we see the endemic nature of child prostitution in Brazilian society – families selling their own daughters, girls as young as nine, who believe that prostitution is entirely normal. Impunity and indifference has also caused sex tourism to flourish in coastal cities such as Salvador, Recife and Fortaleza – which are also due to host World Cup games. The young girl in Fortaleza was one of many child prostitutes I met during recent trip there, openly selling their bodies near beaches which will be packed with football fans during the tournament. Many told me that the police know they are underage but do nothing. Others claimed policemen are also among their clients.
A recent, well-intentional World Cup campaign warns foreign football fans coming to Brazil that they will be arrested and jailed if they pay for sex with underage girls. The campaign is endorsed by police from Brazil and the UK. But until Brazil's authorities actually begin taking the issue seriously, and until wider society starts viewing it as wrong and unacceptable, countless more young girls will continue to be robbed of their childhoods and their futures.
Matt Roper is a British journalist working in Brazil, and founder of the charity Meninadança. He is also author of Highway to Hell: The Road Where Childhoods are Stolen (Monarch).
It's a penalty
Happy Child
Three years ago, I met a young girl called Rose. She was 16 when I met her, but at 11 she had been sent out onto the streets by her mother. She lived in a favela; one of the poor communities. There was no food at home. She began by begging, and then got embroiled in the child sex trade. When I met her, she had already given birth to two babies.
'I'm no one. I'm nothing,' said Rose. There's no way I can get out of this now.' Her babies were back at the favela, living with her mother, who was raising them. While we spoke, Rose was anxious, looking around her. Her pimp was watching her. She looked at me and said: 'I could take you right now to places where children as young as nine and ten are being prostituted. Please do something to help them.'
Our focus at Happy Child International is on at-risk children living on the streets – since the charity's launch 20 years ago, we have rescued more than 10,000 children. There is no question that children living on Brazil's streets are vulnerable to sexual exploitation. Our concern for the World Cup is that unscrupulous people will take advantage of this event to traffic and pimp young girls and boys into the child sex trade. Apparently during the World Cup in South Africa it increased by 40%.
Meeting Rose inspired me to come up with a campaign to help protect these children. Happy Child International has joined with the A21 Campaign and Jubilee Campaign to launch It's a Penalty. The campaign aims to reach football
supporters before they get to Brazil. Most football fans would be horrified at the thought of harming Brazil's children, but there is a minority of them that might take advantage.
We are making people aware of the penalties of being involved in paid sex with any child under the age of 18. People can be prosecuted both in Brazil and when they get back home. Legislation for this exists right across Europe, in the US and Canada.
We are also asking people to speak up if they see anything while they are in Brazil. UNICEF has come to together with the Brazilian government to set up a helpline; people can dial 100 from anywhere in Brazil 24 hours a day, 7 days a week in order to make a report.
Footballers including Alan Shearer, Frank Lampard, Gary Lineker and David Luiz have presented the campaign video, which will be shown on all British Airways flights and Thomson chartered flights to Brazil. The Football Association (FA) will also be sending campaign wristbands to every fan travelling to Brazil. We are not accusing anyone; we are just asking people to stand with us. The more people we can raise awareness among, the more these children will be protected.
Sarah de Carvalho is founder and CEO of Happy Child International
Itsapenalty.com
Educating Brazil's children
BMS World Mission
Paula is from a very poor family in Machados, Pernambuco, north-east Brazil. Just ten years old, she's ended up at the police station more than once for getting into fights. She was expelled from school for bad behaviour. Paula's sister got pregnant aged 12 – and for a while it looked like history was about to repeat itself.
In Brazil, many children like Paula lose their childhood far too early. Mark Greenwood, BMS World Mission's regional team leader for Latin America, believes that the historic inequality in Brazil's education system is one factor locking these
children into lives of poverty.
Twenty years ago, more than 20% of the population were illiterate and less than 60% of children were in education. There were no government funded preschools, so families unable to afford private preschool would send their children to school aged six, already behind.
In 1992, BMS started PEPE: the preschool education programme now serving 8,500 children every day in 21 countries across Latin America and Africa.
'PEPE was never just about reading, writing and arithmetic,' says Greenwood. 'It was also about character building, about the Church being involved in the local community, about parents understanding what their kids were learning.'
The scheme was life-changing for countless children in Brazil. When they started school they weren't behind; in fact, they were often ahead.
Education in Brazil has significantly improved since the early 90s. Today, the illiteracy rate is less than 10%, 95% of children are in school and state-run preschools are widely available. But challenges remain. The standard of private education is much higher than state-run education, meaning anyone who can send their children to private school, will. In contrast, state universities are better than private ones, but to get in you have to pass a test, and the
better educated private school students get the majority of places.
Educationalists and some government programmes in Brazil are trying to change things, but progress is slow. In the meantime, children from low income families have less chance of a good education, a smaller chance of securing a good job and lifting themselves out of poverty.
In 2007, Greenwood recognised another obstacle for the education of Brazil's poorest children: although 90% of the state's children were in school, a very large number of them were still illiterate at 11.
The Space-to-Fly programme is an after-school programme that BMS set up in response to this need. Run by churches for their communities, it offers children a fun way to learn core subjects such as Portuguese and maths.
A lot of those working for both Space-to-Fly and PEPE are from low income communities themselves. They are able to invest in a better future for their own communities. Space-to-Fly is now run by 22 churches in six states – equipping more than 500 children from low income families.
Paula didn't go to PEPE, but through Space-to-Fly she has the chance of a better future. The Space-to-Fly team have ignited Paula's passion for learning, secured her a place at another school and given her advice that will guide her
in much more than just her education. Paula never misses a Space-to-Fly afternoon or a church service; she's discovered Jesus' love for her and she wants to keep learning more.
Sarah Stone is a writer at BMS World Mission
Street Child World Cup
Save the Children
Many countries don't like to admit that there are large numbers of children forced to live on the streets of their major cities. But the news coverage received by the teams from the 19 countries competing in the Street Child World Cup in Rio de Janeiro has raised the profile of these children's concerns – and in a positive light.
'They've just played football, but so much more than that, they've told their story and people are listening,' says Adam Baker, a musician who works with street children in Senegal and volunteered at this year's event between 24th March and 7th April.
Pioneered at the South African World Cup four years ago, the Street Child World Cup seeks to give street children the chance to represent their country and raise the profile of the issues they face.
'The atmosphere was amazing,' says Baker. 'So many kids from different backgrounds, but they found a way to communicate – through football, music and dancing.'
The Street Child World Cup launches campaigns around the event to fight for the rights of street children both in the host city and the home countries of all the teams competing. In Durban, in 2010, one particular problem facing children on the streets was the risk of violence from the police attempting to clean up the city by forcing the children out. Since the World Cup this practice has stopped.
The focus of the campaign in Brazil this year was on getting the government to acknowledge the size of the problem by supporting efforts to count the number of street children in Brazil.
2010 also saw the launch of the Durban Declaration, which collated the views of street children around the world into a document that was presented at the UN Committee on Human Rights. It included an emphasis on the right to education and protection from violence. The Rio Rights Declaration, launched this year, will continue this work.
This year, the Tanzanian team took home the boys' trophy, and the girls' league was won by the home team. But regardless of the final score, street children who are often stigmatised and reviled returned home to a hero's welcome. In many cases they were met at the airport by government officials and are being celebrated for what they've done.
The Pakistani team was sent off to Rio by a crowd of 4,000 people. The boys' team were rewarded with educational bursaries worth £1,000 each on their return. 'It's turned things upside down,' says Baker. 'Children who wouldn't be highly viewed are being celebrated and it's really incredible.'