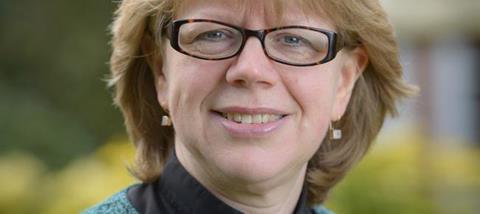 The announcement yesterday that the new Bishop of London will be Sarah Mullally, currently suffragan Bishop of Crediton in Exeter Diocese, is a significant milestone for the Church of England.
By becoming the third most senior bishop in the land, it is a clear sign that women clergy have broken the ecclesiastical glass ceiling.
A diverse diocese
Sarah Mullally takes over the leadership of one of the most diverse Dioceses in the Church of England, racially, economically and theologically.
London has arguably the highest rate of Forward in Faith parishes (traditionalist anglo-catholics who oppose women's ordination) than anywhere else in England and it was one of only two dioceses to vote against women becoming bishops. At the same time, it is also a place where those on the more progressive wing of the church like to settle. Until recently it was the home of Andrew Foreshew-Cain, the first Church of England incumbent to enter a same-sex marriage.
It is into this diverse economy that Bishop Sarah comes, and her experience in leadership in the public sector will serve her well. Before being ordained she was the Government's Chief Nursing Officer, to all intents the most senior nurse in the country and advisor to the Health Secretary and Prime Minister on such matters. She stayed in this role for the first few years of her ordained ministry, then moving through parish and cathedral ministry before being consecrated a suffragan Bishop in 2015. Two and a half years later her clear talent sees her move to one of the hardest leadership positions in the country.
Experience
Sarah Mullally's "late ordination" (she was priested at the age of 40) is seen by some as a shift in the Church of England towards recognising as important for ministry experience gained outside of the Church. Most Archdeacons and Bishops tend to be men and women who have spent most of their life working in the Church. However, when almost a third of pre-retirement age clergy are non-stipendiary (meaning they don't draw their income from the Church) or at best half-time and pursuing other work, the shift in thinking that the appointment of Bishop Sarah indicates is part of a wider re-evaluation within the Church as to what leadership should be and where it can be developed.
Priests like Sarah Mullally and Paula Vennells, currently the Chief Executive Officer of the Post Office and tipped for a Diocesan post in the near future, represent a new normal for ministry and priesthood. The idea that a Bishop needs to have experienced all the ups and downs of parish ministry in order to be able to lead vicars is being replaced, rightly, with the idea that what the Church needs more than anything else is shepherds who can guide. You don't need years of experience of personally eating grass to know where to take your flock to find the best pastures.
Controversial issues
Amidst all the excitement of Bishop Sarah's new position, the tensions still remain. In particular, it has not gone unnoticed that she is the antithesis of another recent diocesan nomination, Bishop Philip North who was announced as the new Bishop of Sheffield and then had to withdraw after coming under severe pressure from discontented elements in the diocese. The refusal of some to work with a bishop who didn't ordain women for theological reasons was seen as a major issue for the wider church and the wounds that it left among traditionalists have been left open. The appointment of a woman to this very senior diocesan post yesterday is seen by some as pouring salt into those wounds. Why, they claim, should "our man" be hounded out of office for his legitimate views, whereas the poster girl of the progressives gets a free ride?
Bishop Sarah is also viewed with caution by those conservative on the human sexuality issue. In recent blog posts she has indicated a clear sympathy with the progressive position. She is currently chair of the bishops' sub-group looking at the scientific evidence in the area of homosexuality, so her ability to campaign on the issue may be limited by that role, but once she is free of that constraint she may speak out. How that will go down with conservative churches? St Helen's Bishopsgate have already threatened to step back from the Church of England if the Bishop of London supports same sex marriage.
As Bishop Sarah wakes this morning settling into the public recognition of her new role (though she will not formally be Bishop of London until she is installed as such next year), the rest of the church is also waking up to the reality of what this means. For some this is an appointment that brings joy and celebration, for others concern or even outright hostility. Whether Sarah can help nurse the Diocese of London and the wider Church of England through any conflict ahead may be the defining nature of her new role.
The Revd Peter Ould is a Church of England priest, a consultant statistician and a Primary School Governor. He has been writing and broadcasting on issues of Christianity, sex and gender for almost two decades. He writes here in his personal capacity.
Click here to request a free copy of Premier Christianity magazine