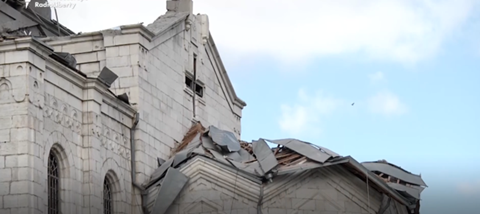 In the last 15 days, Nagorno Karabakh has received more press attention than in all of the past 15 years.
You would be forgiven if you cannot find Nagorno Karabakh on a map. The self-declared republic is not recognised by any other country. Officially a part of Azerbaijan, Nagorno Karabakh has existed as an independent nation since the late 1980s. As the Soviet Union started to collapse, the people of Nagorno Karabakh held a referendum to re-join with their ancestral country of Armenia. Azerbaijan refused to recognise the referendum and began "Operation Ring," a systematic ethnic cleansing of the mountainous region.
The 1988-94 war was brutal. Azerbaijan shelled the capital of Stepanakert with missiles designed to penetrate buildings and explode inside to maximise casualties. The tragedy of Khojaly saw fleeing Azerbaijani families caught in cross-fire despite a humanitarian corridor. The massacre at Maragha saw innocent Armenian villagers beheaded with saws and burned in their homes.
Artsakh – the ancient name for the region – had for centuries been a centre of culture, trade and agriculture. Despite tensions, Christian Armenians and Muslim Azeri-Turks lived side by side. Everything changed with Operation Ring. By war's end in 1994, tens of thousands of Armenian and Azerbaijani families had been displaced, and many places of worship had been desecrated and destroyed. Churches and cathedrals were either seized and used as sub-armouries or deliberately targeted as they sheltered homeless civilians. The Mosque of Shushi remains in ruins.
Since 1994, full scale war has transitioned into a low-intensity "frozen conflict" with Armenia now having control of the territory. Towns, livelihoods and monuments have been rebuilt but many thousands of people remain displaced. Now, in recent days, the conflict has flared up again.
I first visited Nagorno Karabakh in 2008 on a humanitarian visit with the formidable Baroness Caroline Cox. Lady Cox, who is well known for her support of persecuted Christians around the world, has tirelessly supported the people of Nagorno Karabakh since the early days of the war. The Karabakh cause is not just about promoting independence. In the heart of the capital of Stepanakert is a Rehabilitation Centre, a pioneering beacon of care for those with different abilities and challenging circumstances. The Centre has inspired improved practices throughout the region and helped to dismantle the legacy of Soviet institutionalism.
The miracle of forgiveness
Two of the most poignant places in Karabakh are the museums to the fallen and missing soldiers. In room after room there are walls covered with the faces of men and women who were killed or disappeared during the conflict. I will never forget my conversation with Vera Grigorian in 2010. Vera curated the museum of missing soldiers in honour of her son and agreed to meet with me. I had been asked to help collect first-hand accounts from survivors of the war's biggest atrocities. In my ignorance as a 21 year old, I asked her how she found the strength to keep looking for her son. She looked me straight in the eyes and told me, "I start with forgiveness. I then remember our shared humanity." She went on to tell me about her partnership with Azerbaijani mothers, working together to trace, mourn and commemorate their lost children.
As I travelled throughout the region, I spoke with over 50 men and women who shared stories of unthinkable degradation. To my amazement, every single person ended as Vera started: with forgiveness and a hope for renewed friendship. During that visit in 2010, a border clash brought the region to a temporary standstill. "My childhood was basements. I don't want that for my children" one friend told me as sat in a shelter waiting for news.
Sadly, recent events have meant a return to the basements. Innocent civilians on both sides are dying. Indiscriminate shellfire once again rains down on Stepanakert. Children have been evacuated. Churches sheltering civilians have been bombed. Ceasefires have been negotiated and then broken.
An already fragile peace is fast unravelling.
What can we do in response?
We must never underestimate our role in praying for peace. And when we pray, we must pray with a full vision of peace, harmony and wholeness for everyone who has been affected by this 30 year war. We must not pray that Christian Armenians would triumph over Muslim Azerbaijanis as some would encourage us to do.
Archbishop Pargev Martirosyan, the spiritual leader for the Church in Nagorno Karabakh recently told the BBC that the conflict was not a religious war but a geopolitical war about which regional power will rule in the south Caucuses. The Archbishop's observation does not ignore the deliberate destruction of places of worship or statements made by leaders on both sides of the conflict. Instead, it acknowledges that it is too simplistic to explain this conflict as Christian vs Muslim.
The conflict is not a religious war but a geopolitical war about which regional power will rule in the south Caucuses
Limiting our understanding of the Nagorno Karabakh conflict as an inevitable clash of civilisations prevents us from pursuing peace. It erases periods of history where people from both faiths lived as neighbours. Division allows for dehumanisation.
Imago Dei – the image of God – is a doctrine common to the Abrahamic faiths. Imago Dei is a reminder that all humans are created in the image of God. Every person has inherent worth.
This does not mean we stand by and allow injustice and violence to rage unchecked. But while we call for justice, we must also call for lasting peace. We must not use rhetoric that encourages a narrative that allows generations to grow up believing the other is the enemy. Like Vera, we must find faith to start with forgiveness and remember the inherent worth in every person.
In his interview the BBC, Archbishop Pargev prayed "Almighty God, give us peace."
Please pray for Nagorno Karabakh - for comfort for those who are mourning, for food for those cut off from supplies, for healing for those have been injured and - most importantly – for a new lasting peace that will endure.
JP Archer is based in London, UK and works in international development
Premier Christianity is committed to publishing a variety of opinion pieces from across the UK Church. The views expressed here do not necessarily represent those of the publisher