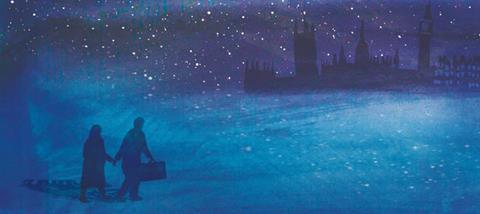 Members of all political parties stood side by side and sang 'Once in royal David's city stood a lowly cattle shed'.
When the service was over I made my way out of Parliament. It was dark and the night was cold and crisp. I turned up the collar of my coat and began walking along Millbank. A man and woman were coming towards me; he was carrying a battered suitcase and she clutched a bundle of clothes tightly to her chest.
As we reached each other, the man asked me how to get to St Martinin-the-Fields Church. They were homeless and trying to get to the place that has helped so many who had no bed for the night; it is known as 'the church of the ever-open door'. I said to them, "It's not far. Just down this road, then across into Whitehall and on up to…" But then I paused. I think I felt overwhelmed by their sheer vulnerability on that winter's night. I stopped giving them directions and looked down the road. Within seconds I saw the bright yellow light I had been hoping for. I hailed the cab, gave the couple a little money, and said to the driver, "They want St Martin-inthe-Fields church."
The taxi moved away, and I watched as it went back past the Houses of Parliament and finally lost it to view as it turned towards Trafalgar Square. But long after it was gone, I found myself still staring down the road. I felt as if the centuries had rolled away, and I had just witnessed a very old Christmas scene: a man and a woman in search of that most basic of human needs – a little warmth and a bed for the night. I was reminded of some lines from 'Up-hill', the poem by Christina Rossetti:
Does the road wind up-hill all the way? Yes, to the very end.
But is there for the night a restingplace?
A roof for when the slow dark hours begin.
May not the darkness hide it from my face?
You cannot miss that inn.
Shall I find comfort, travel-sore and weak?
Of labour you shall find the sum.
Will there be beds for me and all who seek?
Yea, beds for all who come.
I have often wondered whether Mary told Jesus the story of the night he was born and how they were told, "No room." And I wonder whether that story was behind something Jesus said to his disciples the night before he died. He had just given them news that rocked their world: one of them would betray him, one would deny him, and he would be leaving them. And then he said, "Do not let your hearts be troubled…My Father's house has many rooms…I am going there to prepare a place for you…" (John 14:1-2). It is as if, at the lowest moment of their lives, he wants them to grasp the reality of that other world. At the end of their journey there will be a welcome: all will be well.
Sometimes I feel like that couple outside the Houses of Parliament – tired and a little lost. At those times I remind myself of Jesus' words and the reality of that final welcome. And it is then that I find myself whispering the words of the poet: "Yea, beds for all who come."
Rob Parsons is founder and chairman of Care for the Family Follow Rob @Rob_Parsons_