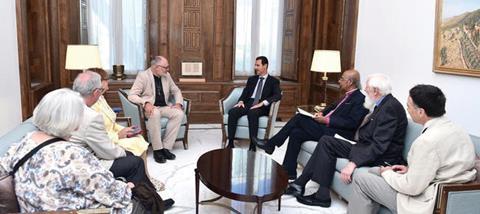 Rev Michael Nazir-Ali, the former Bishop of Rochester, Anglican vicar Rev Andrew Ashdown, and Lord Hylton accompanied Baroness Cox to Syria to discuss the plight of Christians in the country. Syria ranks at number five on the Open Doors World Watch List for persecution against Christians.
The vice-president of the All Party Parliamentary Group (APPG) on Syria and Labour MP, John Woodcock, said the trip was "shocking".
"Whatever good intentions this British delegation has will fail; their presence at this man's side can only strengthen him as his campaign of terror continues."
Baroness Cox responded by saying that in order to get the fullest picture of what is happening in the war-torn country, it was important to speak to everyone.
She said: "You're in the country, you want to meet as many people as you can.
"I would say, for example, it is really important to hear their point of view and to raise our concerns with them."
During their visit, President Assad's forces were accused of using chemical weapons and the Christian peer told Premier: "There were allegations of a chemical weapons attack by the Syrian army. What was not covered at all, in just one day when we were there, was the militant Islamic jihadi offensive. Four car bombs took place when we were there."
She added: "When we went to Aleppo, we saw lots of gas containers that [the opposition] use. They fill them with nails and bits of iron and use those as cluster bombs that they fire onto civilians...It's a two-way process; it's not one way."