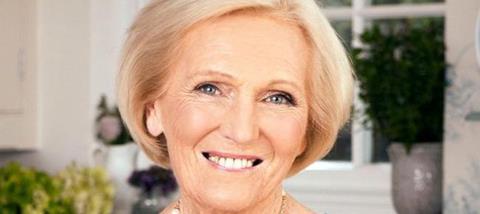 Perhaps the most elegant and stylish 81-year-old in the room, the whole country ached with pride watching Mary Berry win a National Television Award for the best TV judge this week. As last year's series of The Great British Bake Off was her final series before the move to Channel 4, I was overjoyed to see her recognised for what she does so well.
The reason Mary is so brilliant is that she doesn't judge as an act for show or for attention. As a recipient of her firm but fair judging, I can say from experience that she deeply cares that the feedback is true.
The value of real truth is fleeting in society today, which is why I think Mary is so refreshing and we all love watching her. If your cake is dry, she won't hesitate to tell you. But the gentle nature of her delivery makes a lot easier to take.
Another fantastic quality in Mary is that she softens every harsh word with a positive comment. Even if you've baked something bordering inedible, she will compliment the presentation, or failing that, the serving plate. She finds a good thing to say about every bake. The Christian qualities written about in Philippians 4 are displayed so clearly in the way she judges in such an encouraging way.
My favourite part of her composed and eloquent speech was the line "the greatest reward [from judging the bake off] is that all the young are baking!". She knows that her platform and role is a place where she can inspire the next generation of young bakers, and she uses that opportunity!
I am a product of that influence, as I was just 13 when the first series of Bake Off aired. I instantly loved the show and loved the judging, and learned so much from her and Paul's constructive criticism. It was through watching the show that I got into baking, and when I found myself in the famed tent four years later, I had Mary and Paul to thank.
The humility possessed by a woman at the height of fame should be an inspiration to us all. We need more Mary Berrys with their affirming words in this world than Simon Cowells with cutting remarks. Positive criticism delivered in a humble and gentle manner are what make the world of media a better place, and what every TV show should have. I can't wait to follow Mary's next steps and see what is in store for her in the future – a truly inspirational judge.
Click here to request a free copy of Premier Christianity magazine