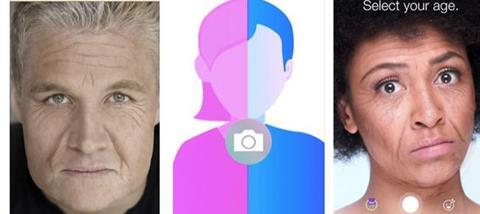 How are you going to look in 20 years?
That's the latest fad going viral online, and it's all down to FaceApp. In return for a pile of your personal data, this app will provide you with an AI generated photo of yourself looking suitably wrinkly, grey and haggard.
I already know what I'm going to look like in 20 years because that's what my father looked like 10 years ago! And I'm OK with the results; Praise the Lord I get to keep my hair!
The paid version of the app doesn't just age you, it also allows you to play with your identity. You can be younger, change your sex or give yourself a hipster beard. There are also a couple of different "Hollywood" options where you can create a celebrity glamour version of yourself.
We live in an age where our identity isn't something which is set at birth, it has become something that young people feel they have a choice over. We can choose to present whatever image to the world we wish. On Facebook we can be the happy party-goer, the multiskilled parent, the risk taking traveller or the landscape artist. Apps like FaceApp are perfect for a world where fake news and fake identities are the new normal. We can use FaceApp, FaceSwap and FaceTune to create the perfectly branded image. We can be Spiderman one day and Captain Marvel the next.
Alongside the choices for various beard types, hair styles, and celebrity makeovers there is a button in FaceApp called "original". This takes you back to the first unedited photo of yourself. I'd like to rename this button. How about "made in the image of God the creator", or "much loved", or "precious to the most high".
"Original" just doesn't do it justice. Original reminds me of Birdseye "original burgers" as opposed to Birdseye "chilli burgers" or "zinger burgers".
I want to relabel that button "Precious" or "Authentic". Psalm 139 puts it like this: "For you created my inmost being; You knit me together in my mother's womb. I praise you because I am fearfully and wonderfully made; your works are wonderful, I know that full well."
In a world that has become addicted to clicks, likes, shares, and retweets, how much better it is to have a deep reassurance that in Jesus we can be loved "just as we are". My dream is not to be a Hollywood star. I don't particularly worry about being a grey-haired old man in 20 years. My dream for my kids is that they can know they are loved right now by their father and their heavenly Father.
In 50 years I'll be standing around God's throne of grace, hopefully with a full head of gleaming brown hair, singing praises. Knowing our authentic identity as a child of God now means we know our identity in 100 years and more. Learning God's love for us, just as we are, warts and all, provides an anchor of deep security in an insecure world.
Graham Miller is the chief executive officer at London City Mission
Get more articles covering news, culture, faith and apologetics in every print issue of Premier Christianity magazine. Subscribe now