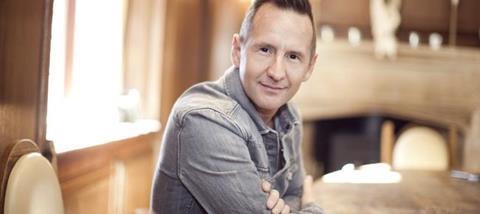 Standing inside the Night 'N' Day cafe in the fashionable Northern Quarter of Manchester on January 24th is an eclectic crowd of 100 people aged 18-60s.
There's hipsters, a drag queen and Lindz West of LZ7. There's the newcomers, the Delirious? die-hards and those who came out of curiosity looking for new live music.
Not much is known about the alt-rock outfit Army of Bones, but calling them 'Martin Smith's new band' is perhaps just a little unfair. The band is also comprised of Reuben Harsant (drums), Henry Marsden (bass), husband and wife team Sarah (keys) and Jonny Bird (guitar). This is the same group of musicians that have supported Martin's solo material, specifically the God's Great Dance Floor records.
Rumour has it that Army of Bones are doing everything they can to avoid the term 'Christian band'. But faith is never far away for those who are willing to look. For example, the band have teamed up with Brighton born artist Natasha Kissell (who will feature in the upcoming video for Batteries). And Kissell is open about her experience of feeling the presence of God in art.
This is not a band that is marketed toward the Christian fans of Delirious who have watched Smith's career from the beginning. Instead the band's intention is to provide quality music for everyone. Perhaps this band has the potential to be all the more evangelical as they reach out to an audience who may not otherwise have taken the time to listen? Being dubbed a 'Christian band' has been known in the past to have a catastrophic effect on musicians attempting to appeal to the mainstream.
As Army of Bones take their places, decked in their uniformed suits right down to matching pocket squares and emblazoned with their new logo, the audience edges forwards. The band open with 'Batteries' - a song already known to fans. It is a soul-searching piece that although not overtly Christian, is dripping with the spiritual longing that Smith's lyrics have become known for. If Delirious?, Depeche Mode and U2 collaborated and formed the ultimate worship/rock/synth super group, it may sound just a little like this.
At this, their third ever gig, Army of Bones introduced new material full of spirituality, mystery and good old fashioned alt-rock. From 'Never Gonna Let Me Go' (which has hints of Kings Of Leon's 'Crawl') to the raw power of 'Dead in the Water' and the heart-rending 'Love Song for a City', each band member comes into their own through fuzzy guitar tones, excellently polished riffs, licks and harmonies and Martin's unmistakable soaring vocals. Guitarist Jonny Bird's phenomenal solos are enough to force you to stop dancing in order to soak in the atmosphere and incredible talent.
The set closes with the majestic 'River', set to be released as a dual single with opening number 'Batteries' on February 1st. The lyrics teem with spiritual imagery. As Martin sings, 'There's a river and it cleanses my soul…find me in the riverbed, come and raise me from the dead'.
With the band's powerful basslines, haunting melodies and precision drumming, this is music for the masses and rock with a purpose. Army of Bones have the potential to reach secular audiences in a way that Delirious? (as incredible as they were) never could. This isn't about flying under the radar but about mind-blowingly beautiful music and slick performances allowing the music to speak for itself without an assigned 'Christian' label.
It may be early days for this band, but it's clear they already have the capacity to capture the hearts of secular and Christian audiences alike. This is the first step on a brand new journey. As Martin puts it himself at the end of the show, 'We don't know where this is going, but we're in it now'. I for one look forward to seeing what comes next.
Kate Hill is a Youth and Community worker at Trinity Methodist Church
Click here to request a free copy of Premier Christianity magazine