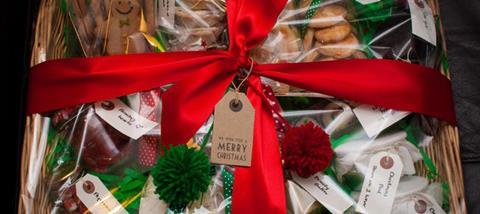 As I write this my youngest son is wailing upstairs "Mummy help me!" as his father has dared to remove him from my presence and attempt to bedeck him in pyjamas. This, at best, can be described as mild peril. My little limpet may believe this to border on psychological torture but fortunately he has little to worry about on that front (I hope).
However, Christmas is not to everyone the time of joy, happy homes, and food fuelled fantasy that my Christmases are. Our church runs a very busy food bank that serves an area that has real need. As the sway of political opinion buffets the vulnerable, disability allowance is removed, people lose work, others are sick or unable to keep jobs. When they get to this time of trouble our community workers step in and spend some time scooping them back up.
This year we decided to do more than just our usual hampers for people in desperate need of food and basic provisions. We added to this a luxury hamper, full of really nice tasty things. These hampers will go to those who are receiving essential hampers and to other folk who the community workers are in contact with.
The church was asked to donate the food. Boy did they donate!
These photos aren't even half of the food we sorted. Our donation was late but it was so good to take the boys and tell them, "let's choose food, not for you, but for some of the families who might be a bit sad this Christmas". Some businesses donated, people whipped out their wallets and marched into M&S determined to purchase with passion.
We had such a brilliant time. Of all the ways to start feeling festive, this is up there with the best of them. After our crew had emptied all the donations onto the tables we had to get baskets out ready for filing. We had 31 baskets for households of one person alone, then almost the same again for households of 2-3, then there were larger families and even one family of 7. We had the jolly task of making sure each basket had savoury things as well as reams and reams of chocolate. I've never seen so many chocolate oranges in my life! Mini Christmas puds, larger ones, discussions with my dear friend who also has four children as to the merits of bottles of drinks that everyone will get tiny sips of and large boxes of chocolates plus hyper children.
I'm sure that the God who gave his own Son, who gives freely and abundantly, is smiling at us giving out treats at Christmas
As I picked the baskets I tried to imagine the recipients, but quite frankly I found it tricky. In my time volunteering for church and other Christian charities I've come across some tragic stories but it is so hard to picture those stories translated to Christmas day, unwrapping their chocolates, handing out their mince pies and piling the crisps into a bowl. Will they be as excited as I am? Will this bless them as much as it did to us who packed it?
My dearly beloved works hard all the time and as such rarely gets to spend time doing the church's community work. So when the chance came up to deliver these hampers during his free time he was quick to volunteer. He delivered three - two to single mums and one big one. After the wrong address was on one hamper he had to return for a second attempt. They were well received and he wished them a happy Christmas and was a job well done.
I'm sure that the God who gave his own Son, who gives freely and abundantly, is smiling at us giving out treats at Christmas. Joy to the world, especially the poor. The poor in finances, the poor of happiness, the poor of spirit, the poor of family. I hope our baskets point to the greater gift. He is the real reason for the season and that's actually pretty good news.
Claire Williams blogs at jesusinourhouse.wordpress.com where this article first appeared
Click here to request a free copy of Premier Christianity magazine