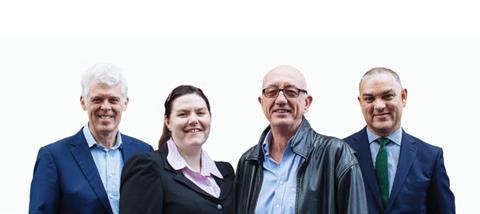 JN: What is it about this service that draws these three people to it? What makes them feel that it works? The Church is one of the few organisations that exists for the sake of its non-members, and so I want to ask: what can you do in order to reach out to like-minded people? See if you can grow the congregation, get the gospel out there and build something that will bless other people as well. If these are older people, for example, look at local communities where the elderly are living. Remember how much emphasis there is throughout the Bible on caring for widows. James 1:27 says, 'Religion that God our Father accepts as pure and faultless is this: to look after orphans and widows'. We do need to ensure that we support the needs of older people and reach out to them.
The Church is one of the few organisations that exists for the sake of its non-members
If you take this approach and don't see growth, I would say that you need to turn this into a small group, or cell group. That way it can still happen at 8am on a Sunday.
VT: My inclination would be to shut it down. But be very careful in doing so because that service represents a tradition. A church without a tradition is no church; it doesn't know its story or where it's come from. A lot of pastoral work is about dealing with the trivial, the difficult and the odd. So the fact that these three people don't fit in is an interesting pastoral challenge; pastor them as much as possible.
This question also raises the issue of how you pastor the elderly, which will be of increasing significance in our culture. Maybe pastorally it would be helpful to think, 'Here are my parents. What would I do with my parents in this sort of situation?'
Perhaps you could run this service at a different time in the week, using a much simpler service than a full Communion. There may well be somebody in the congregation who could be ordained (if this is an Anglican setting, as an ordained local minister) and they could carry this on. It may be that these people would be better suited to other churches. In the end there is a core narrative to every church, and not everybody will fit into that narrative.
BK: Consider the need of these three people to be fed spiritually and ministered to, and do not shut it down. If you pray about it, you will find someone else willing to run the 8am service.
If you know how to approach them, there are always people in the church willing to volunteer to help out. It is necessary to give equal importance to all services.
Rev Betty King is founder of Betty King International Ministries Jo Naughton is Premier Christian Radio's agony aunt and pastors a church with her husband jonaughton.com Rev Dr Viv Thomas is honorary teaching pastor at St Paul's, Hammersmith and director of Formation
This new page tackles pastoral and relationship issues. If you have something you would like our panel to discuss, email lucinda.vanderhart@premier.org.uk