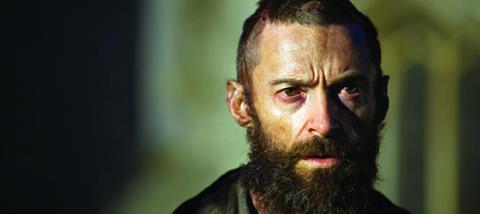 'Phenomenon' is an overused word, misapplied far too often in our hyperbole-addicted culture. Sometimes, however, the statistics support its use. So it is with Les Misérables, Tom Hooper's film version of Boublil and Schönberg's West End-dominating musical, which was released last December. Taking over £8m in its opening weekend in the UK alone, the resulting mass audiences, many of whom returned to see it several times, made a mockery of the film's $60m budget. To date it has grossed an incredible $437m worldwide on box office sales, making it one of the highest-grossing British films of all time.
The film, however, is only half the story ? the stage musical on which it's based has been playing continually in the West End for 28 years, making it London's longest running show. And looking back even further, the original book on which it is all based ? by revered French author Victor Hugo ? is regarded as one of the greatest novels of the 19th century. Whether expressed as a novel, a musical or a film (there have been numerous other non-musical versions), in the case of Les Mis 'phenomenon' is well deserved.
A Christian story
Surely, though, you're wondering: why get so excited about a film that was released in 2012? This is the culture column, not the history page ? surely I should be writing about The Great British Sewing Bee or the upcoming Shaun the Sheep movie?
There are two answers to this: first, because the film is released on DVD this month and is expected to challenge all-time sales records, and second, because the central story contained within it is remarkably, profoundly and intentionally stuffed with powerful theological messages. Les Misérables is as Christian a story as you could hope to find outside of the Bible.
Just in case you've somehow managed to avoid it, or if you're the sort of person who wants to put musical theatre into Room 101, a quick plot synopsis: Jean Valjean (played here by hunky Australian Hugh Jackman) is a hero with a past. Try as he might, he cannot seem to outrun the legacy of his sin, manifested by lawman Inspector Javert (played here by chunky Australian Russell Crowe). Through a combination of human effort and divine intervention, Valjean journeys towards his personal redemption ? while being dogged by Javert, adopting a daughter, and becoming embroiled in the unsuccessful and lesser-known French revolution of 1832. Along the way there are songs. Lots of songs. Quite often Russell Crowe sings, which isn't altogether good news.
A primal story
The constant singing (there are only a handful of lines of spoken dialogue in the entire film) could lead you to imagine that this is a superficial film, prioritising foot-tapping entertainment above genuine plot. Nothing could be further from the truth; this is a story about big ideas: inequality, faith, transformation, repentance. After a few minutes, the jarring effect of the operatics begins to fade, and these emotive themes take hold. In Hollywood lingo they talk about great story being 'primal': connecting with every person on a deep, instinctive level. That's exactly what happens here; and it's why Les Mis is so potent a resource for churches.
To be frank, the film is a hive of buzzing sermon illustrations (as illustrated in the box). It manages to discuss issues of faith without ever proselytising, and in a way that connects intuitively with the viewer. Who doesn't wonder if a bad life can be redeemed? Who doesn't struggle at some point with the issue of forgiveness? The historical setting helps, but the film seems to be able to ask these questions of normally non-religious people, and from all reports, move those people deeply. The story is therefore a perfect discussion trigger, as applicable from the pulpit as across the dinner party table. It creates an opportunity to ask friends, 'What do you believe about that?'
Les Misérables is as Christian a story as you could hope to find outside of the Bible
The central conflict between Valjean and Javert is the most pertinent conversation starter of all. Valjean's journey of redemption illustrates the scandalous grace of the Christian gospel; Javert is the Pharisee who cannot forgive a lawbreaker. Their interactions challenge us; whose side should we be on? While our hero is literally 'working out his salvation with fear and trembling' (see Philippians 2:12), trying to put things right after being given a second chance, Javert is only trying to present him with the punishment that the law demands he receives. In their first meeting, Valjean sings that he knows the meaning of '19 years a slave of the law', but by the end we realise that it is actually Javert who is held captive by legalism. As Valjean receives grace he hasn't earned and steps into freedom, Javert cannot cope with the outrage of God's apparent mercy. So the film not only sets up the question, it also provides a compelling answer: love wins.
This is one example of a discussion starter; there are many others. The release of Les Misérables on DVD will remind a nation of one of its new favourite films, but it also presents Christians with a rare opportunity ? a resource of exceptional quality that will provoke conversations about faith.
5 discussion-starting clips from Les Mis
His grace
This is the moment where Valjean is initially 'saved' ? and his salvation comes at the hands of a man of faith. The bishop realises that this stranger has stolen his silver ? yet his response is mind-blowing. A great clip to kick-start conversation around justice, mercy and grace.
Clip details: 07:30, lasting 3 minutes and 15 seconds - if you don't have the DVD, use this shorter clip below:
Who am I?
Unable to live a lie any longer, and responding to the forgiveness and grace that he has received, Valjean demonstrates integrity in the face of injustice. He frees the wrongly accused man, and in doing so plunges himself back into conflict with Javert. A great 'What would you do?' moment.
Clip details: 35:58, lasting for 4 minutes - if you don't have the DVD, use this shorter clip below, or play 'Who am I?' from the soundtrack:
Javert's prayer
Javert sings that 'those who falter and fall must pay the price'. There is no room for grace in his view of justice... or his view of God. Javert spiritualises his ruthless pursuit of Valjean just as much as his nemesis sees God in his journey of redemption.
Clip details: 1:03:35 lasting for 3 minutes - if you don't have the DVD, use this shorter clip below, or play 'Stars' from the soundtrack:
Javert: The law vs grace
In one song, Javert references Proverbs: 'Mine is the way of the Lord And those who follow the path of the righteous shall have their reward.' Yet he uses his faith (in an angry, punitive God) to justify his relentless pursuit of petty lawbreakers such as Valjean. Use this clip ? as Valjean begs for mercy so that he can rescue Cosette ? to stimulate discussion around the conflict between grace and the law.
Clip details: 43:20, lasting for 1 minute and 30 seconds - if you don't have the DVD, use this shorter clip below, or play 'The Confrontation' from the soundtrack:
To love another person is to see the face of God
The beautifully poetic final line of the film is a conversation starter all on its own. Drawn directly from Victor Hugo's original novel, it was his vision for France's way out of poverty and inequality. It's still a huge challenge to us today. So what does it mean? And is Hugo right, or is this a watered-down truth?
Clip details: 02:26:28 lasting for 1 minute and 35 seconds - only the DVD can really do this clip justice!