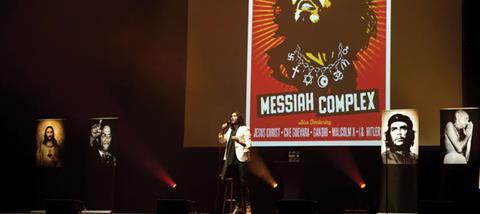 He's been a drug addict; he's been an international film star. He is committed to marriage, yet is known for his inability to practise monogamy. He's written a national newspaper column on the philosophy of football, and recently he's spoken out on politics. And, of course, he divides people like Marmite.
A comedian-turned-presenterturned-actor, Brand's career path is as hard to box as his maverick personality. Recently he guest-edited an edition of high-brow left wing political weekly New Statesman. Right now he's in the middle of a major stand-up comedy tour, the British leg of which concludes in March.
"When [Russell Brand] speaks we have no idea if he's going to talk about pornography or Proust"
Titled Messiah Complex, the show is concerned with how celebrities have to some extent replaced religious figures in modern culture. Sending himself up in the process, he sets about unpacking how ultimately vacuous that idea is, and even begins to explore what might replace it instead. So why has Brand chosen this material for his latest show, and does doing so mark a coming of age ? another seismic shift in his roller-coaster life?
BRAND OF COMEDY
Brand's act is firmly in the category of shouldn't-work-but-does. Walking an impossible line between high camp and ferocious heterosexuality, Brand's secret ingredient is his extraordinary verbosity. He speaks in poetic, unrehearsed phrases of oftenstaggering wit and poise, throwing in references to art, literature and philosophy. Yet this is no Review Show panelist; in among the beautiful words are barbs of vulgarity ? stories of his many sexual conquests, and a fairly heavy dose of obscenity. He is perhaps so interesting because what he says is so surprising; when he speaks we have no idea if he's going to talk about pornography or Proust.
Despite containing both of these elements ? and even some apologies for the high-brow references to Nietzsche and Wittgenstein ? Russell Brand: Messiah Complex demonstrates that both the man and his act have matured. Previous stand-up shows generally used to revolve around his sexual conquests and drug excesses ? now he's trying to use comedy as a vehicle to explore some of the Big Questions.
Messiah Complex is Brand's tongue-in-cheek attempt to claim his place among the great revolutionary messiah figures of global history ? Che Guevara, Gandhi, and, of course, Jesus ? men he refers to as his personal heroes. Attempting to cast himself as the next in that line, he enters the auditorium for each performance from the back, milking the applause like a boxer entering a ring; shaking hands as he goes; a sort of nightly triumphal entry. His hypothesis is that since celebrity has taken the place of religion in modern culture, he is the natural successor to those figures.
He's not serious ? in case you were starting to worry. What he's really pointing to is the redundancy of an idea which has become central to our consumer culture. The very motivation for the show seems to be a desire to communicate the unfulfilling nature of celebrity to those who might aspire to it. In an infamous Newsnight interview he describes fame as 'ashes in my mouth', and ? particularly since he was cast as a national villain after the most high-profile of his various public controversies ? he has become fascinated with the subject. In the same interview, he tells Jeremy Paxman that 'celebrity in itself is utterly, utterly vacuous; [after becoming famous] you realise you need nutrition from a higher source'. So what he's really saying is: there's something, deeper, bigger and more satisfying than the pursuit of fame…He just doesn't seem entirely sure what it is.
BRAND OF RELIGION
Long before this current show, Brand has demonstrated a fascination with ideas of faith and spirituality. Having regularly flirted with ideas of meditation and transcendence, in 2012 he married and later divorced popstar Katy Perry (formerly a Christian recording artist and the daughter of two American church pastors, Keith and Mary Hudson) in a traditional Hindu ceremony. Previous stand-up shows have circled around the subject of religion, and although he has pledged no allegiance to a particular faith, he's very clearly on a journey, and one which does cast the occasional glance towards Jesus.
'What does it matter', he wrote in October, 'if 2,000 years ago Christ died on the cross and was resurrected if we are not constantly resurrected to the truth, anew, moment to moment?' While this isn't intended as a rallying call for the masses to embrace Jesus, it's actually fantastic theology ? it speaks of the sort of living faith that perhaps Brand doesn't realise is perfectly possible within the Christian tradition. St Augustine writes: 'Because God has made us for Himself, our hearts are restless until they rest in Him.' At times, Brand seems to circle frustratingly close.
In the promotional material for the Messiah Complex tour, Brand asks, 'Would Jesus be into Christianity? (wow man you're blowin' my mind!)' This throwaway line is another indication that he identifies with Jesus the man, if not with the Church. To Brand, Jesus is a brilliant revolutionary leader who shared his care and concern for the poor. Which makes one wonder ? how many others of Brand's generation might find Jesus compelling if they understood the things he was for, rather than just the things his followers stand against.
BRAND OF POLITICS
In one of Messiah Complex's more sober moments, Brand points out that while it would cost £50bn to eradicate global poverty, the super-rich have £21 trillion sitting in offshore accounts (a culture like that, he argues, needs another Malcolm X). Comments like this belie the fact that, a little like Bono (another divisive messiah figure), Brand is a serious man, increasingly serious about making the world a better place by tackling its injustices. Combining all that wordpower with his humble roots as an Essex drug addict, he's a perfect spokesperson for what he's described as a disengaged 'underclass'. He has the makings of the very revolutionary leader he jokingly aspires to be.
There's a problem, however. While Brand sporadically demonstrates phenomenal intellect, his judgement is at times infamously poor. In October, he was entrusted with guest-editing duties at the New Statesman, and used the platform to say 'I will never vote and I don't think you should, either.'
The phrase was buried towards the end of a gargantuan editorial; his personal vision statement on a necessary political revolution which was absolutely engaged with the importance of democracy. But of course ? due to the vacuous sound bite world that Brand himself has identified ? the real message got drowned out.
In a more recent Newsnight interview, Jeremy Paxman referred to Brand as 'trivial'. The word simply doesn't ring true; if he can develop some discernment, he could yet become a genuine thought leader for the younger generations. As Independent editor Simon Kelner pointed out: 'Whatever Brand may be, he's not trivial... [he] definitely articulates a strain of thinking among a growing number of young people who feel disenfranchised, disenchanted, disengaged and, most important, disinterested in the idea that politics can change the world.'
Brand is a paradox ? a man at the epicentre of a celebrity culture he rejects. Now he seems determined to use his position to bring positive influence to that culture, but he's still somewhat confused, and always prone to those mistakes that undermine his better moments. To write him off because of his sexual exploits or his other indiscretions is a mistake, however. Brand is a work in progress, desperate to find spiritual meaning and a better world, and encouraging others to join him in the search.
BRAND-GATE
Four moments when Russell made national headlines because he just couldn't resist the gag...
BUSH-GATE: In the run-up to the 2008 US presidential election, Brand was a surprise choice to host the MTV Video Music Awards and achieved instant notoriety for describing George Bush as 'a retarded cowboy fella' who in England 'wouldn't be trusted with scissors'.
BIN LADEN-GATE: Brand's first media break came in 2000 as an MTV presenter. He was fired after coming to work dressed as Osama bin Laden... the day after the 9/11 terrorist attacks.
SACHS-GATE: Perhaps most notoriously of all, Brand was a guest on Jonathan Ross's BBC radio show when the pair left an obscene phone message for former Fawlty Towers star Andrew Sachs about his granddaughter.
HUGO BOSS-GATE: The sponsors of the 2013 GQ men of the year awards were left red-faced after Russell pointed out their 1930s Nazi links on stage. He was ejected from the subsequent after-party.