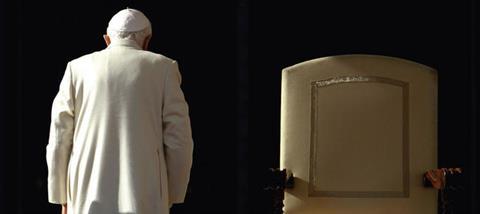 The resignation of Pope Benedict XVI took the Catholic world by surprise in February. The 85-year-old pontiff cited his age and increasing infirmity as the reason for stepping down from the position after eight years in the role. It is the first time in 600 years that a pope has retired, as Catholics have traditionally seen the post as divinely ordained until death.
Charles Whitehead, chair of the International Charismatic Consultation, described the decision as 'totally unexpected'. 'I think people will be very surprised because he seemed to be fulfilling his responsibilities. He was still doing trips abroad, but I know he was looking more frail. But he's a man of enormous integrity and if he genuinely felt he couldn't fulfil his responsibilities, he would take a step like this.'
Benedict was well known for his support of traditional doctrine and a conservative stance on issues such as abortion, euthanasia and homosexuality. His personal shaping of the top tiers of the Catholic Church will ensure that legacy remains in place for some time to come. Following his announcement, evangelical leaders in the UK and abroad heaped praise upon the man seen as a vocal ally for traditional values and an ecumenist willing to work alongside Protestant denominations.
Lord George Carey, former Archbishop of Canterbury, said, 'I think his fairly brief period as Pope has been a significant one. He's said some very brave things; he's a man of deep faith and he deserves a long retirement.' Al Mohler, president of the Southern Baptist Theological Seminary tweeted that 'Pope Benedict has offered a brave and intelligent defense of truth against a relativist tide and he has been a stalwart friend of life'
Benedict was formerly known as Cardinal Ratzinger, and had risen through the ranks of Catholic leadership since his ordination as a priest in Germany in 1951. Much of his career was primarily academic, serving as a professor of theology at several German universities. He was a key advisor to his predecessor John Paul II after his appointment as a cardinal. Nicknamed God's Rottweiler, his election as pope in 2005 disappointed liberals within the Catholic Church who saw it as a backward step. Yet, many saw him as a unifying figure, representing the concerns of a growing Catholic Church in the South with the intellectual gravitas to take a stand against secularism in the West.
Recalling Benedict's visit to the UK in 2010 (the first state visit of any pope), Dave Landrum, of the Evangelical Alliance, said, 'His contribution to affirming the vital role for religion in public life cannot be underestimated. In his speech in Westminster Hall he presented our politicians with the great challenge of our age, asking: "What will be the ethical basis upon which we make our political decisions?" His towering intellect and humble heart will be greatly missed.'
British Catholics will have little influence on who succeeds Benedict after another unexpected resignation ? that of Scotland's most senior Roman Catholic, Cardinal Keith O'Brien, following allegations of 'inappropriate behaviour' towards other priests in the 1980s. He denies the claims, but says he decided to retire early in order to avoid the controversy overshadowing selection of the next pope. His withdrawal means Britain has no voice in the conclave (meeting at the time of going to press).
Looking ahead
So who will be next to lead the Catholic Church through 'rough seas'? The abdication of Pope Benedict XVI has led to inevitable speculation about who his successor will be, and may lead to the election of the first black pope. Among the front runners for the job are Cardinal Peter Appiah Turkson, 64, from Ghana and Cardinal Francis Arinze, 80, from Nigeria, though many believe the latter's age will rule him out. Whoever the next pontiff is, some have suggested that Benedict has ensured his successor will follow his doctrinally conservative example by appointing a record number of like-minded clergy to positions of authority during his time in office.
The former Archbishop of Westminster, Cardinal Cormac Murphy O'Connor, is not eligible to vote in the conclave due to his age, but expressed his desire for a leader who would be willing to reform the Church. 'The new pope will be the Pontifex ? the word means not only a high priest but also a bridge builder, and there's no doubt that today there needs to be a renewal in the Church, reform in the Church, especially of governance.' Referring to scandals that have rocked the Catholic Church in recent decades, he said, 'The gravest ones over the last years have been the scandals regarding protection of children. These issues have to be addressed at the highest levels, not only by the Pope, but also by the bishops.'
Nevertheless, a mood of optimism dominated the thousands of supporters who crowded St Peter's Square in Rome to hear Benedict's XVI's final address as pope. He spoke with unusual candour about the 'rough seas' that marked his papacy, saying 'there were moments, as there were throughout the history of the Church, when the seas were rough and the wind blew against us and it seemed that the Lord was sleeping'. During the speech, which was frequently interrupted by applause from the crowd, he also pledged his 'unconditional reverence and obedience' to whoever succeeded him.
Many saw him as a unifying figure with the intelectual gravitas to take a stand against secularism
One pilgrim, Michael Calan from Texas, made the trip to Rome especially to see the Pope's final message. He said, 'It's been amazing. A once in a lifetime opportunity to see one of the greatest theologians possibly ever, knowing it's his last audience, with 100,000 of our closest friends.'
Premier Radio presenter Maria Toth was present to witness Benedict leaving the Vatican by helicopter for his summer residence and the start of his retirement from public view. She described 'incredible scenes'. 'I saw the Pope waving out of the helicopter. It circled around and went over the square. People erupted in cheers, waving their handkerchiefs and flags.'
The conclave meeting to elect his successor is expected to make a decision by mid March, with hopes that the new pope can be installed in time for Palm Sunday on 24th March.
Benedict's final Tweet, sent from his @Pontifex account, read: 'Thank you for your love and support. May you always experience the joy that comes from putting Christ at the centre of your lives.' As Catholicism faces its latest upheaval, his benediction is one that many will want to put into practice.