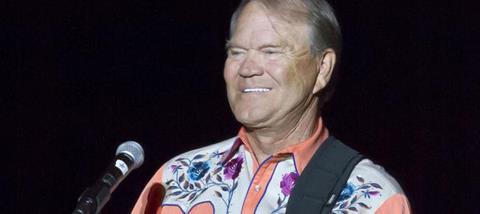 After a battle with Alzheimer's, country music legend Glen Campbell passed away yesterday.
"It is with the heaviest of hearts that we announce the passing of our beloved husband, father, grandfather, and legendary singer and guitarist, Glen Travis Campbell, at the age of 81," the singer's family said in a statement.
Best known for hit songs including 'Rhinestone Cowboy', 'By the time I get to Phoenix' and 'Try a little kindness', Campbell leaves behind a musical legacy. But he'll also be remembered for his strong Christian faith.
Being a Christian doesn't mean a person will never make mistakes. On the contrary, Campbell's problems with drugs and alcohol have been well documented. He also walked a difficult road in his relationships - he was married four times. Nevertheless, the singer's Christian faith was prominently on display in a number of interviews he gave over the course of his lengthy career. He was often willing to admit his faults and speak about past mistakes, as well as give glory to God for the privileged life he led. Here are some of the highlights:
1. Why he's been successful
In an interview with Cross Rythms in 1990, Campbell said: "I've been extremely successful in my career. And, what's more, I've been blessed with a wonderful family and friends. But I know that it wouldn't have happened if the good Lord had not wanted it to. I'm very grateful for all that I have, and want to give the Lord the thanks he deserves."
2. 'Jesus saved me from cocaine'
In 1994 Glen and his wife Kim gave a candid interview to Guideposts where they both spoke openly about Glen's battle with drugs and alcohol. The singer explained:
"I had promised Kim that cocaine would not be part of our marriage. I tried and prayed, but I didn't keep that promise. One night shortly after our first child, Cal, was born, some musician friends were in town, and I stayed up till dawn doing cocaine with them.
"When I got home Kim was heartbroken and furious, and I was afraid she was going to take Cal and leave. I can't say I would have blamed her but I think it would have torn my heart out.
"As I had done so many times before, I begged the Lord to deliver me. I don't understand why, but that day it was as if Jesus reached down and pulled my hand back from the cocaine. I never touched the drug again."
3. Surrendering to Christ
In the Guideposts interview, Glen also spoke of his struggle with drinking:
"I used to argue with my pastor about how much wine they drank in the Bible. 'Jesus turned water into wine,' I'd remind him.
"He'd look at me, shake his head and say, 'Glen, when you can change water into wine, then maybe you can drink it.'
"One day Kim handed me a cassette tape and left me alone to listen to it. She had recorded me while I was drunk, so drunk I didn't remember her doing it. Lord, is that what I sound like? I told Kim never to record me like that again. Even so, she did—twice.
"I was more embarrassed than angry. Every time she saw me pick up a drink she burst into tears. My guilt was eating me alive.
"In August of 1986 I was in Hawaii for concerts with the Royal Philharmonic Orchestra. After one of the shows I went out for drinks with friends. I don't know that I had any more to drink than usual, but the next morning I awoke with just about the worst hangover of my life.
"The sun was streaming through the curtains, and it was all I could do to roll out of bed and get on my knees. 'Lord,' I prayed, 'get me off this stuff. Help me find a way.'
"This time I wanted to surrender everything to Christ—my pain, my drinking, my whole life. Again, I don't understand the mystery of why he chose that moment to save me—but he reached into my life and took up the burden."
4. Experiencing the peace which passes all understanding
Reflecting on the difference that God has made in his life, Campbell said:
"When God lifted my obsession for alcohol it was as if he raised the curtain on a whole new life. He changed me in ways I never could have changed myself, and that is the key.
"Today I truly have a peace 'which passeth all understanding.' I really don't understand it. But I thank the Lord all the time. I am a man richly blessed, despite myself."
5. On Christian music
Although many of Campbell's biggest hits weren't explicitly Christian, Campbell did record an album of his favourite hymns. And in the Cross Rythms interview, Campbell remarked:
"I love singing gospel music and hymns. Being a Christian I love to tell people about Christ and what he's done for me and can do for them."
Speaking of the Baptist Church he attended in Phoenix, Campbell also told Cross Rhythms: "It's got an orchestra with strings and a 300-piece choir. It really satisfies my desire to sing with a big choir...it's a great thrill getting to do that about once a month."
6. The story of his baptism
The story of Campbell's baptism as told in the Guideposts interview is especially heartwarming:
"I grew up in a Christian home back in Delight, Ark. Even though Daddy and Mama got us to church regularly, I had never been baptized. So in December of 1981, about a year before Kim and I were married, we flew to Arkansas, where I asked my brother Lindell, a Church of Christ preacher, to baptize us.
"It was freezing cold, four days before Christmas, but I wanted to be baptized like the Christians of old—fully immersed. I stripped down to my blue jeans and waded into Saline Creek, my childhood swimming hole.
"Once, when I was two, I fell into a slough and nearly drowned. It was Lindell who resuscitated me on the muddy red bank.
"When the baptism was over, Kim and I sat in Lindell's truck, shivering under a mound of blankets as I sang 'Oh Happy Day'. I couldn't help thinking back to when Lindell had saved my life as a little boy. Now, so many years later, I was hoping to be saved again."
7. Experiencing God as father
In 1994 he said: "I was never happier than when I was with my daddy. Daddy's been dead a while now, but I feel as if I've found a Father again. He is in heaven and I am his boy."
Although we mourn the loss of this talented singer, we can also be grateful that Campbell is now at peace and has gone to be with his heavenly father. In the words of one of the star's favourite hymns 'What a friend we have in Jesus':
Soon in glory bright, unclouded,
There will be no need for prayer—
Rapture, praise, and endless worship
Will be our sweet portion there.