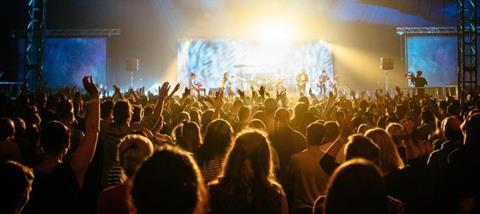 This August Bank Holiday, I joined 6,000 people for 72-hours of non-stop worship.
David's Tent is not an endurance sport. It is a weekend with a single purpose: a physical space for the Church to gather in all of its variety and exalt Jesus in all of his majesty.
Set in the beauty of the Sussex countryside, David's Tent celebrated its seventh year this summer. Here are seven reasons why this first-time attender believes its such a great event:
1. Realising we live in incredible days
Rewind the clock 40 years and the landscape looks very different. Musician-led, Spirit-filled worship could often only be found in small pockets throughout the country. AW Tozer once said that worship is the missing jewel in the Church. David's Tent reminded me how of just how much we have to be grateful for.
2. We are family
I have had the privilege of getting to know several staff and volunteers over the last year. I am not sure I have met a team who provide a better definition of family. It takes more than twelve months of hard graft to make three days run seamlessly. The care and attention shown by the entire team makes for the most welcoming atmosphere. It turned a field into a home.
3. There is no right or wrong way to do David's Tent
My friends and I glamped. It was the best solution to not having camping equipment! Other friends bought tents, some stayed off-site nearby and some just came for a day. David's Tent is unscheduled. This provides a unique liberty to either be in the Big Top for worship, enjoy the sunshine outside as worship music fills the air or roam the marketplace. I have often felt like I am rushing from meeting to meeting at other Christian events. The lack of structure, although uncomfortable at the start, allowed for real vulnerability and intimacy with God. The weekend was refreshingly relaxed – something that was much needed after a long working week!
4. Worship is symphony
The range of music was beautifully broad. We sang ancient hymns, traditional choruses, old spiritual songs, Appalachian rounds, new songs and spontaneous, written-in-the-moment refrains of praise. We danced, we knelt, we stood, and we sat. Sometimes it was thousands in the Big Top, sometimes a handful around a campfire late into the night. Hearing worshippers singing wherever you were on site never grew boring.
5. Bumping into people
One of the biggest joys of the weekend was bumping into friends from across the country. There was no need to arrange times to meet. The fluid nature of David's Tent allows you spend quality time with the best of friends. The sound of deep-belly-laughter across the campsite was so much fun.
6. We are stronger together than we are apart
David's Tent gathers worshippers from across every denomination, tradition, movement and stream. They come from every nation and region of the UK and from all across the European continent. Jesus prayed for unity. David's Tent gives a glimpse of what could and should be possible when we gather with a common cause.
7. No amount of rain can stop us!
I am told that David's Tent is usually a dry weekend. This year it rained. It really rained! So much so that Melissa Helser sang over the 6,000 of us, reminding us of the unique benefits of steady rain. That volume of rain should have dampened spirits. There is truly something profound about a crowd of expectant, hungry women and men who are intent on worshipping their Saviour.
Tickets for 2019 are already available. Register. You won't regret it.
JP Archer is a social entrepreneur based in London, UK
SPECIAL: Subscribe to Premier Christianity magazine for HALF PRICE (limited offer)