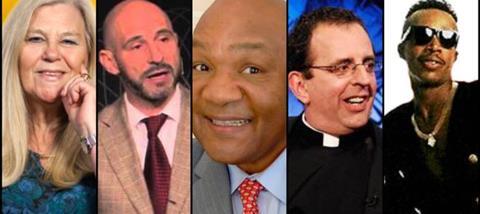 1. Cindy Kent MBE
As the former lead singer with 1960s folk band The Settlers, Cindy Kent enjoyed a successful career in music. After singing alongside Sir Cliff Richard and releasing hits such as 'The Lightening Tree' and 'Whichaway Billy' Cindy moved into broadcasting on BBC radio. She has also been an influential figure in Christian broadcasting - when Premier Christian Radio won a battle with the British government to allow Christian broadcasting in the UK in 1995 - Cindy was the first presenter who was signed up. Her decision to become a Priest came later in life. And although now retired from her highly successful parish ministry, Cindy is still an occasional contributor to Premier Christian Radio and recently received an MBE for services to religious broadcasting.
2. Rev Richard Coles
As one half of pop duo The Communards, Richard Coles had widespread musical success in the 1980s. He describes that decade as "the best of times" - referring to his chart topping hits and "the worst of times" as he witnessed his friends suffer under the HIV/AIDS crisis in London. Today he's a Church of England priest in the village of Finedon, Northamptonshire and a regular contributor to BBC1's Have I Got News For You. Richard is the only vicar to have had three top 10 UK hits - including the biggest-selling single of 1986, 'Don't Leave Me This Way'. The full story of his journey out of pop and into parish ministry is detailed in the next issue of Premier Christianity magazine.
3. George Foreman
Two time world heavyweight champion boxer George Foreman is now an ordained minister. Foreman became a Christian in 1977 following a near death experience. The boxer experienced being in a hellish, frightening place of despair. Although not yet a Christian he pleaded with God to help him and found himself being lifted out of the experience. As a result of this, Foreman became a Christian and started preaching on street corners. He eventually became the reverend at the Church of the Lord Jesus Christ in Houston, Texas. He also opened a youth center that bears his name.
4. MC Hammer
MC Hammer's hits include 'U Can't touch this' and 'Too Legit to Quit'. The international renown rapper was raised in a Pentecostal family and once said the 'MC' in his name stood for "Man of Christ". The emcee (real name: Stanley Kirk Burrell) started a television ministry on TBN in the late 1990s and has since worked with prison ministries and been ordained in the Church of God in Christ.
5. Gavin Peacock
Former Chelsea, Queens Park Rangers and Newcastle United midfielder Gavin Peacock is now pastor at Calvary Grace Church in Calgary, Canada. Peacock shocked the football world in 2008 when he announced he was quitting his work as a pundit on the BBC to go into full time ministry. He told the Independent: "When I got the call to enter the ministry I just felt like that what I was meant to do. I feel compelled to do it. I was in my study reading my Bible when it seemed someone had highlighted the words on the pages. I suddenly felt the calling to preach...I could have studied in England but we had been out here on holiday a few times and we just thought, 'Let's make a real break away from everything.' Coming to Canada was like stripping things back, I couldn't trade off my name. No one was going to give me a hearing because I was Gavin Peacock, ex-Chelsea captain."
Click here to request a free copy of Premier Christianity magazine