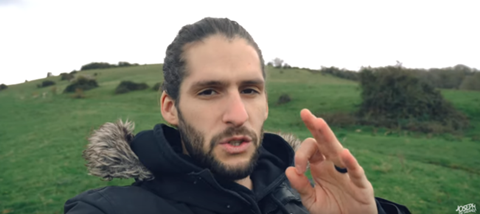 Coronavrius has caused disruption for all of us. As a church leader you spent many years fine-tuning your preaching technique to crowds of humans, but what once worked well for your congregation, may not work anymore.
Coronavirus disrupted my plans too. I'm a self-employed filmmaker who has lost 80 per cent of my work for 2020. My diary has been wiped clean, meaning I've more time to make silly videos like this one on stuff Christians say during a pandemic:
More productively, my friends at Digital Church Toolkit and I have started thinking about ways we can help churches and their leaders adapt to this new season.
The Digital Church Toolkit team has conducting free consultations and webinars with hundreds of churches and leaders to help them continue their ministry through digital. This had given them an unique insight into what churches need right now. They had seen pastors (yes, you) faffing about online trying to make videos and post them on social media, and making all kinds of errors in the process. Truth be told, it has been clear to us that plenty of church leaders are sadly out of their depth.?
?
And so now, after two weeks of hard work and many late nights, we're ready to launch our brand new eCourse: Filming for Pastors Made Simple; 10 steps to present, preach and pastor well over video.
?
The package is designed for church leaders. It includes short vlog-style videos and a 17 page written guide. Why? Because we want you and your church to not just survive, but thrive in this season. The needs of our nation are great and the Church must rise up, in the love of Christ, and be a voice of hope. And video, when it's done well, will be a great aid for you to do exactly that.
?
From the ultimate 'shooting on a smartphone setup' to 'how to minister virtually' and even camera confidence tips, we cover it all. For those looking to invest in longer term options, we've also brought together a great video production kit list with suggested cameras, mics and more.
For now, here are five filming tips to get you started:
1. Always keep the camera at eye level. Bring your phone, camera or even laptop up to same height as your eyes. You don't want to be looking down at people and ideally not slouching either.
2. Warm up with worship before you go live or record your video. Sing as loudly as possible, loosen up with a dance and get in the zone! You'll feel way more confident and closer to Jesus too.
3. Script your ending. It's important. Don't make it awkward.
4. The windows should never be behind you. Neither should any other light source. If you need to close the curtains and turn off other lights then do it. Put the effort in because your viewers deserve it. And while we're talking about aesthetics, please be careful around candles...
5. Your smartphone's headphones have a mic on them. This is your secret weapon! It's how you can massively improve sound quality, without spending a penny. Plug them in as you usually would and everyone will thank you!
We're told to "go into all the world", and right now, the world is online. They are browsing and looking for something. Are you going to give them what they're looking for?
Joseph The Dreamer is a freelance filmmaker and YouTuber. If you need to pass some time while in isolation, he recommends his YouTube Channel which features over 100 Christian, wholesome, videos. Click here for more information about the Digital Church Toolkit.