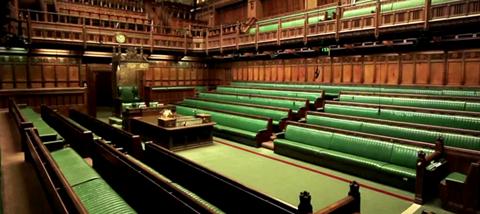 With a looming Brexit deadline, MPs will have to decide if they will back May's Brexit deal, decide to leave the EU without a deal or find another way of resolving the impasse. But Brexit is not the only issue they will be required to address this year. Homelessness is on the rise. Concerns remain around immigration, austerity and universal credit, family breakdown and NHS funding. To quote Justin Welby in his New Year's message: "Turn on the television, read the news, and you see a lot that could tempt you to despair."
Faced with such challenges it is easy to fall into one of the two camps; either abject cynicism that things just aren't going to get better or divisive tribalism.
Welby's antidote to this is hope. He reminds us that the Christian's hope is an active hope, one that is both comforting and empowering. It is this hope that motivates us to put the second great commandment that Jesus calls us to - to love our neighbours as ourselves – into practice. "That will involve choosing to see ourselves as neighbours, as fellow citizens, as communities with something to contribute," he says.
So how can we take on board this message and put it into practise this year? Here are three points to get you started.
1. You can…Pray
Prayer is inviting God into the mix. Prayer changes us too by aligning our hearts with the Father's will. It is the best and first place to start if you want to start seeing radical change in your communities. It will also give you the strength, endurance and protection to engage in the public square.
If there's anything that our Government need, it's more of God at the centre of their decision-making. Pray for your MPs. Pray for wisdom, courage to make the right decisions. A good night's sleep. Pray for Christians that serve to be bold in their convictions. For those who don't know Jesus yet to come to know him. Pray for their marriages and their families. The burden of being in public office is high. A study found that MPs have a divorce rate of twice the national average due to the strain that the job places on family life.
Fiona Bruce MP told us: "It is a huge benefit to me to know that there are thousands of people out there praying for me. Every day I appreciate it and I recognise that there are difficulties I could have encountered, pressures I could have felt, stresses I could have suffered but because of the praying covering I have received from people who I don't I know and will never know I know that I am protected and I want to say thank you to them."
2. You can…Petition
While we pray as though the outcome depends upon God, we can work as though the outcome depends on us. That's not forgetting that God is at the centre, but rather stepping out in faith to align our actions with our prayers for change.
Find an issue that grieves you and pick up the mantle to champion that cause. Read about the issue. Search online to connect yourself with groups, charities and individuals who want to or who are already making an impact in this area. Write to your MP. Watch out for consultations or debates happening in Government on this issue using the Parliament website. Join a political party. Vote. With council elections happening across hundreds of local authorities this year, it's a great time to get involved locally.
3. You can…Push Yourself
God calls us to be salt and light in our communities. We can't do this in the background. It requires us to show up and put ourselves forward. It can be uncomfortable, but victories aren't won in the middle ground.
How can you model Christ's love where you are? It could be by starting a prayer group or a small group at your church, university or workplace about an issue or cause. Could you apply to stand as a local representative in your community? As a school governor, a parish councillor, a local councillor or an MP?
2019 is going to be a challenging year. With Brexit at the forefront of the Government's agenda we are going to see discord. If we choose to act in faith and with hope, we can also be part of the Kingdom breakthroughs that happen this year in politics, in Government and in our local communities. So, what are you waiting for?
Gareth Davies is the UK Director for CARE (Christian Action Research and Education)
Enjoyed that? Get more articles covering news, culture, faith and apologetics in every print issue of Premier Christianity magazine. Subscribe now for HALF PRICE (limited offer)