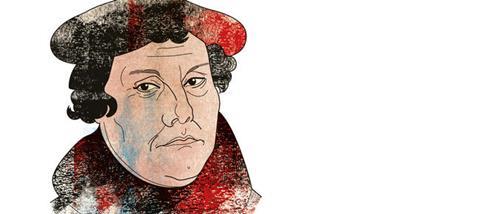 1. A keen walker
As a young friar, Luther walked the 1300 km to Rome with a companion, begging for their food as went since they belonged to a mendicant religious order.
2. Dressed as a knight
He was sequestered for his safety in a fortress for nearly a year and twice ventured out disguised as a knight.
3. Marriage of convenience
One reason for marrying Catherine Von Bora was that she had been jilted and his likely death would make her a respectable widow and him a martyr in the eyes of many Germans.
4. Best-selling author
Luther was a best-selling author, but unlike today's novelists he never made much money; he and his wife ran a sort of student hostel and took in passing guests.
5. Promoted beer drinking
He said: "Whoever drinks beer, is quick to sleep; whoever sleeps long, does not sin; whoever does not sin, enters heaven! Thus, let us drink beer!"
6. No time for cranks
He sang, played the lute and composed hymns, especially for children. He said: "I have no use for cranks who despise music, because it is a gift of God."
7. Anger as motivation
He once said: "Anger refreshes all my blood, sharpens my mind and drives away temptations."
8. He was brave
He spent the last 25 years of his life under the ban of the Roman Empire, which meant that he could at any time be caught and executed without trial. At times he worried about this, at other times he joked about it. He was quite brave.
9. He was anti-semitic
He called for the burning of their synagogues and wrote a pamphlet titled On the Jews and their Lies. Nazi propagandists claimed him as a patron of their persecution of the Jews.
10. He had poor health
He was in poor health for the last 30 years of his life, suffering from ailments which were then incurable, such as kidney stones, piles, headaches and toothache and was often made more ill by the medical treatments of the day, especially blood-letting. On his death bed he was given an enema. Late in life, he joked that soon a fat doctor would be given over to the maggots.
Fintan Lyons OSB is a Benedictine monk in Glenstal Murroe Co Limerick and is the author of Martin Luther – His Challenge Then And Now (Columba Press)
Click here to explore the special Reformation 500 issue of Premier Christianity magazine. Click here to request a print copy of the new issue