The woman who first made accusations against Ravi Zacharias was slandered and sued by his ministry for years. Now, upon the release of an independent investigation that confirmed the apologist groomed multiple victims with impunity, she has been vindicated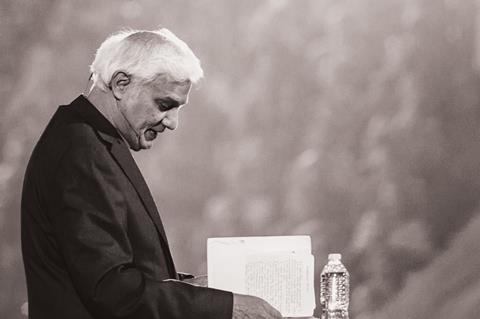 The case of Ravi Zacharias has been horrifying to watch unfold. One of the most esteemed Christian apologists in the world, Zacharias established an international Christian ministry, RZIM, which reached thousands with the gospel. After a brief battle with cancer, he passed away last year at the age of 74. He was heralded by celebrities, theologians and political leaders – including the former vice president of the United States Mike Pence – as a wonderful man, a brilliant mind and a character of honour and integrity. This, despite the fact that some of the allegations against him had already been made public.
In the months following his death, the allegations continued to mount, culminating in the release of an independent report that found Zacharias had engaged in "sexting, unwanted touching, spiritual abuse, and rape". In the detailed report by law firm Miller & Martin, a number of spa workers from a facility co-owned by Zacharias shared harrowing testimonies of the apologist systematically grooming them for sex, often in exchange for money.
One of them recalled how Zacharias made her pray with him to thank God for the "opportunity" they both received as he pressured her for sexual favours. The woman said that Zacharias called her his "reward" for living a life of service to God, referencing the "godly men" in the Bible with more than one wife. She said that he warned her to stay silent or else she would be responsible for the "millions of souls" whose salvation would be lost if his reputation was damaged.
Shockingly, the investigation also discovered that Zacharias had acted with total impunity – using multiple mobile devices, utilising encrypted messaging platforms and even connecting to a separate WiFi network while working at RZIM's headquarters. "He claimed this was for security reasons," the report noted, "but the end result was that no one at RZIM would have had administrative access to his devices or email communications."
RZIM's failings
As the organisation's founder, namesake and primary revenue generator, Zacharias was militantly defended by the senior leaders of RZIM. When allegations first arose about him inflating his academic qualifications in 2017, the group issued a defensive statement insisting they never "knowingly misstated or misrepresented Ravi's credentials", edited his website bio and swiftly moved on.
Then, when a Canadian woman named Lori Anne Thompson came forward to allege Zacharias had systematically groomed her for sexually explicit photos, the organisation slandered her relentlessly. Even after it emerged that Zacharias had threatened to kill himself if Thompson revealed the situation to her husband, both RZIM and Zacharias himself denied any serious wrongdoing and implied that she was lying. The organisation was so determined to ensure Zacharias' reputation remained intact that they painted Thompson and her husband, Brad, as extortionists, and even filed a lawsuit against them to that effect.
Staff at RZIM have since revealed that the senior leadership repeatedly assured them that there was no merit to the mounting allegations against Zacharias. The board vehemently defended him, quelling any questions about the alleged misconduct and, according to some reports, telling staff to simply "trust Ravi" and his word.
Lessons for the future
Zacharias had been elevated to a position where he could not be questioned and had excused himself from being held accountable by those around him. As former RZIM speaker Sam Allberry recently revealed, Zacharias travelled for months on end and was not a member of a church. He was given free rein over his whereabouts and complete autonomy and privacy when it came to the use of his electronic devices. As a result of these accountability failures, the apologist was able to get away with years of sexual misconduct and abuse.
The abuse scandal has also done irreparable damage to RZIM and its affiliates. The UK's Zacharias Trust – which runs The Oxford Centre for Christian Apologetics (OCCA) – has announced it will change its name and sever all ties with its US parent organisation, citing "serious issues and systemic failings" in RZIM's handling of the situation. RZIM Canada has ceased operations entirely. RZIM will be laying off most of its staff and wrapping up its apologetics work.
Along with an investigation into the organisation's culture and practice, RZIM said it intends on becoming a grant-making organisation, supporting evangelism and "the prevention of and caring for victims of sexual abuse". It has deleted the entire archive of Ravi's content from its website and instructed lawyer and abuse victim advocate, Rachael Denhollander, to lead an investigation into the organisation's abuse and harassment issues.
While the full picture is yet to emerge on the extent of RZIM's failures, there are clear lessons to be learned. No Christian leader or pastor should ever be above the requirement for full accountability or immune from challenge and questioning over their conduct. It is imperative to ensure all appropriate mechanisms and procedures are in place to protect against abuse.
"We need to have some systemic reflection and look at what are the structures that enabled a narcissistic abuser to fool so many people," long time Ravi Zacharias whistleblower and atheist blogger Steve Baughman told Premier Christianity. "It took an evangelical village to enable him for decades and that's the real lesson here. It's not about Ravi anymore. It's about the system that let him get away with this."